A great way to learn is from the success of others. So with the goal of picking their brains for your benefit, SketchDeck had a conversation with two of our clients from Ascend.io: Marketing Manager, Carol Jang, and Events Lead, Riley Nagel.
You see, Ascend.io not only attended AWS re:Invent (THE event in their space) for the first time last Fall—they went toe-to-toe with some of the biggest, baddest brands vying for their customers' attention, and came out on top. Here's how:‍
It takes a village
Carol describes her company's product as "the only solution allowing data engineering teams to quickly and easily build autonomous, Spark-based pipelines." But there was nothing "quick and easy" about the planning and preparation she and Riley (a self-proclaimed maven of multiple hats) went through leading up to their inaugural visit to re:Invent—although they're both quick to point out it was the ultimate team effort.
"Everyone in the company was involved to some extent," Riley says, "…and more than half of Ascend.io was there."
But when you're a scrappy startup, and want to make an impression at an event with over 60,000 attendees, aligning company resources and beginning a cadence of planning 6 months in advance is not only smart, it's essential.
"re:Invent was really big for us." Carol adds, "We dedicated a lot of upfront investment because we knew the impact it would have on the business."‍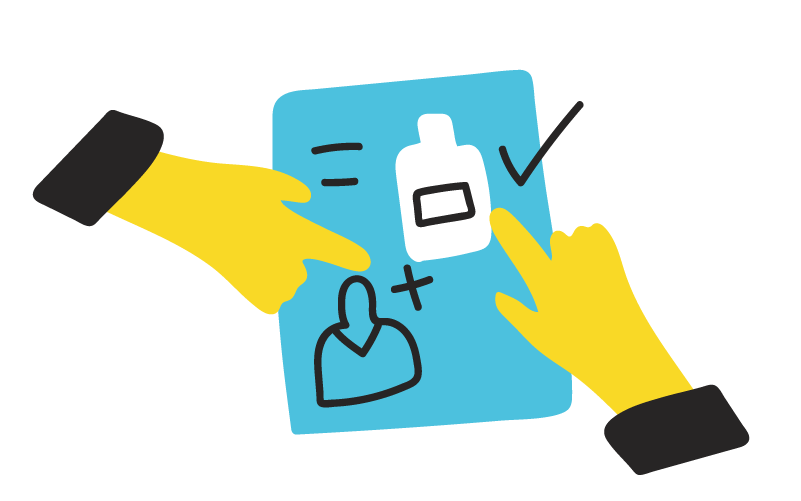 Ideas are free—and critical
Industry trade shows can be boring and dry. And with plans to come out of stealth mode just a few months before the event, Carol knew Ascend.io wouldn't have a lot of brand awareness among their target attendees. "So we wanted to make it fun. To stand out. To give people a reason to come see us even if they don't know what we do."
But to do that, they needed ideas. And good ones.
However, creativity can be timid. So in order to birthe the best concepts for their booth, Carol and Riley coordinated a brainstorm where all ideas—no matter how far fetched—were warmly welcomed. Both believe this approach produces the best batch of possibilities. It's served them well in the past. In fact, their Game of Thrones themed booth at Google Cloud Next was a big hit.
The concept they decided on for re:Invent not only shows a deep understanding of their market, but also that this hard-working crew isn't averse to having a little fun.
"We know there is a strong sense of camaraderie among the data engineering community based on shared experiences around how painful it is to build data pipelines." Riley explains, "So we decided to transform our booth into a whiskey bar—where engineers could come to hang out with our team, share their stories, and learn about Ascend.io."
Cheers to that.‍
Get creative. Then get creative even more.
So whiskey bar it was. But the creative coaster was only just beginning to roll. The implementation of this spirited idea started off as a western saloon, but took an unexpected right at Durango and wound its way into Hipsterville—finally stopping at a mysterious, modern speakeasy that everyone agreed was a much better representation of Ascend.io's brand and culture. SketchDeck was thrilled to support them through every twist and turn.
We appreciate that SketchDeck could come on that journey of finding the perfect design—being totally understanding and happily accommodating us as we continued to pivot along the way.

Carol Jang,
Marketing Manager, Ascend.io‍
Ascend.io's booth was "Turn-Key," which in trade show speak means what's in the booth package is predetermined (wall panels, tables, counters, etc.), and the exhibitor develops and provides custom graphics to be applied by the event organizer, so the booth is assembled and available when the sponsor arrives.
SketchDeck worked with Carol and Riley to help bring their cool and classy "Pipelines Suck Speakeasy" to life: shelves holding whiskey bottles and assorted barware hung on industrialized concrete walls; behind-the-bar and speakeasy entry signs.
But Ascend.io took the whole experience to yet another level. They accessorized with whiskey postcards, tabletop signs and t-shirts—plus cocktail-flavored lollipops. And then there were the eye catching, and undeniably brilliant, custom-made neon signs.
Ascend.io even gave away dozens of bottles of (you guessed it) whiskey when attendees successfully completed a challenge or stopped by to hear a demo. Mic. Drop.‍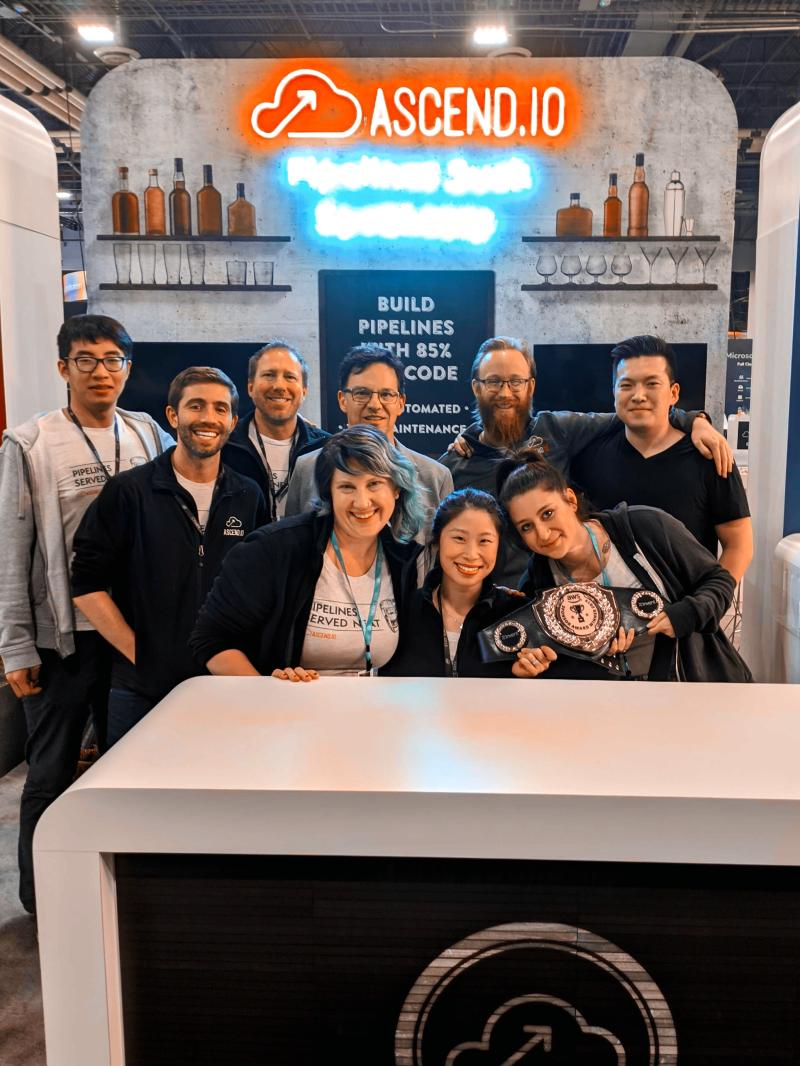 Third-party validation
In a vast sea of exactly-what-you'd-expect booths—conservatively designed with logos and brand-approved colors—the Ascend.io display floated to the top and stood out. In a very good way.
But we're biased for our clients, so don't just take our word for it. Ask the AWS folks who ambushed Carol in the 11th hour on the last day of the event—when her feet were waving the white flag, and only show stragglers (attendees who likely scheduled their flights for the following morning) were milling about. The conference team presented her with their "Best Use of a Small Space" award—selecting Ascend.io's booth after assessing all the exhibits across the massive event.
I was totally blown away. I was really surprised and it was really emotional because the whole team had put so much work into it.

Carol Jang,
Marketing Manager, Ascend.io‍
Other tips and takeaways‍
When you're a re:Invent rookie, who takes on veteran brands at your industry's biggest venue and comes out on top, you're doing a lot of things right.
So we wrapped up by asking Carol if she'd be willing to offer additional guidance for brands that might be similar to Ascend.io. Small startups looking to get as much return as possible from their event investment (given "scrappy" can also undeniably apply to marketing budgets).
She explains what she believes to be Ascend.io's secret sauce:
"We definitely felt like the underdogs coming in. And there were a lot of other companies there that had bigger brands, bigger teams, and bigger budgets. But a big part of our success is the heart and hustle we bring to every event as well as our innovative approach. We always push ourselves to think out of the box."
She also said:
Don't be afraid to stand out. You can't be the best if you're just like everyone else.
Make the most of every second. Don't waste this amazing opportunity to connect with your target audience.
Surprise yourself. Surprise your customers. When you push yourself to innovate, great things can happen.
Utilize your team whenever possible. In Ascend.io's case, they tested a short list of  possible themes on their engineers—a convenient and (extremely) low-cost stand in for an actual customer focus group.
Both Carol and Riley expressed their appreciation of SketchDeck's support throughout their inspirational success story. And we certainly loved helping them out.
Let us know if you've got any good ideas you'd like our assistance in bringing to life. They don't even have to be booze related!