Creating case studies that pack serious punch isn't like writing a college business report. It isn't like writing a blog post, white paper or research report, either. A case study needs to breathe life, have a story behind it and show—­­not tell—­­potential customers why your product or service solves a real problem. In short, building a case study that converts is as much an art as it is a science.
To better understand what exactly makes a great case study, we looked at our firsthand experience designing case studies for our customers and scoured the web for other real-world examples. We wanted to test the elements that comprise case study greatness, break down what resonates with potential customers, and, ultimately, siphon out more knowledge on the subject than anyone else. In order to do this, we hit the virtual streets to test what the case studies of some of the most successful B2B tech startups are doing (or not) with their customer stories. For our research, we shortlisted 11 high-­growth companies with a total of 79 case studies. These startups all had venture­ backing exceeding $35M and were recently in the press for raising funds and being poised for "take­off."
Our analysis of these startups proved so abundant, we wrote an eBook, "Create Case Studies That Convert: The Ultimate Guide." It reveals insider knowledge and includes a step-­by-­step guide on how to create a customer case study library of your own.
‍
Why case studies are important for your business
To intro the topic of case studies, it's important that we're all on the same page about what makes them significant for your business. Case studies can rock your world for a couple of reasons and should be created with one or more goals in mind.
Here are some of things a great case study should do for you:
Generate qualified leads­ — ­Through marketing forms and CTAs, case studies can generate some of the most qualified lead lists you'll ever get your hands on. Think of it this way: anyone who has opted to read about your company and how you've helped someone else (totally self­-serving content) is a red hot lead.
Makes your product or service personable —­­ Case studies grant you a rare opportunity to tell a story about your product through someone else (the customer you're writing about). This lends the chance to relate with potential customers or users on a completely different level: through succinct storytelling. Think of a case study as a long ­form customer testimonial that adds some humanity to your product or service, shows that real people see your value and is separated out from the rest of your sales material.
Shows off notable customers­­ —The champion customer that stars in your case study broadcasts to potential customers the caliber of your user base, lends authority to your study and should embody your target customer.
Closes deals with larger clients­­ —Depending on your sales cycle and the company size and organization of your target customer, case studies can be hugely valuable—even expected—material when closing a deal. Although an unproven hypothesis from our primary research, the more decision­ makers involved in buying your product, the greater the possibility you will need this type of traditional content to close.
For more of the case study fundamentals, download our free one-­stop shop eBook, Create Case Studies: The Ultimate Guide.‍
What separates the great from the good?
As we touched on above, your case study should have a clearly defined purpose like generating leads, making your product more relatable, and so on. A predetermined goal for each case study in your collection is the foundation, the starting point. When adding elements to support the goals of the content (like a call to action, customer quote or even a photograph), you should be keeping yourself in check, asking: "does this particular call to action, quote, photograph (and so forth) serve the higher purpose?"
After analyzing 79 case studies we learned that a case study can't really be wrong. Simply, some are better than others and the difference between a good case study and a great one is in the details. This famous Aristotle quote perfectly illustrates our findings: "The whole is greater than the sum of its parts." Or to put it even more poetically, a plate of cheese nachos is good, but nachos with cheese, pico de gallo, guacamole and jalapeño peppers is exponentially better.
The more things you can get right or "score on" in your case study, the more impactful it will be (to the power of 10). The SketchDeck Case Study Report Card houses the elements you should aim to score on in your own case study. The more elements you get right, the higher your score and the better your study. Got it?
Elements of a case study report card
These are the elements you should try to include in each and every study you create. As you can see in the weight, some elements (like a clear call to action) are more important than others (like including a blockquote).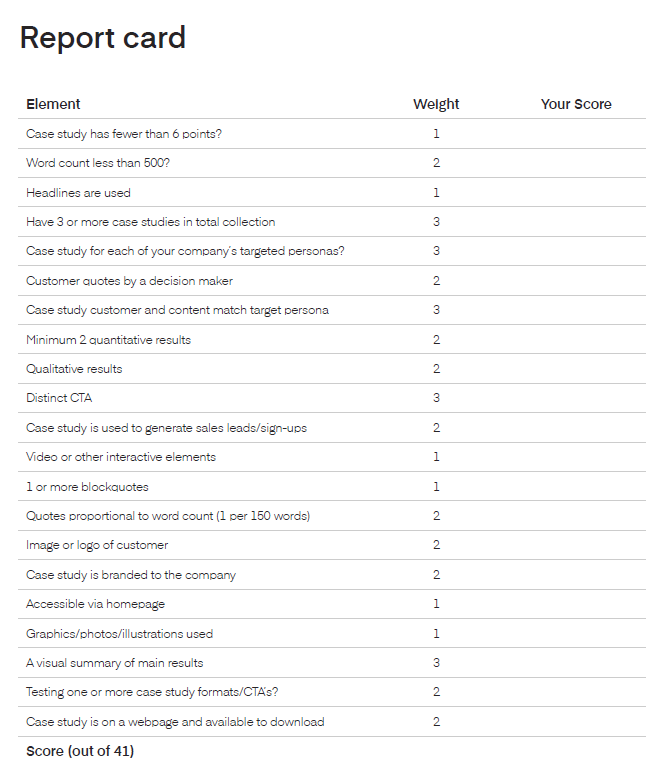 Score case studies from your own collection
35 or above: Your case study gets an "A" on its report card. Your case study includes all or most of the elements required to make it a powerful marketing and sales asset.
30­-3 : Your case study gets a "B" on its report card. Your case study includes many of the necessary elements but is missing some of the key ingredients that are required to really get the most of the asset. It may be leaving the reader wanting a little more.
25-­30: Your case study gets a "C" on its report card. This means you have some work to do. You have some of the necessary elements, but your case study lacks the emphasis or design that will convert potential customers. Take a look at why your grade is lacking and look to make a few improvements.
Below 25: Your case study fails. (Or should we say isn't "great.") The good news is that by following the steps outlined in our ebook and adding necessary elements your case study can be revived.
We graded a bunch of top-­tier startups using the SketchDeck Case Study Report Card. To illustrate, we'll walk you through what an "A" grade case study looks like.
Lever: Score A+ (38 points)
Lever builds applicant tracking software for modern hiring. They focus on the candidate-­company relationship, streamline the hiring process and deliver unique insights into companies' talent. With over $30M raised to date, they appear to not just have their business figured out, but have a stellar case study collection as well.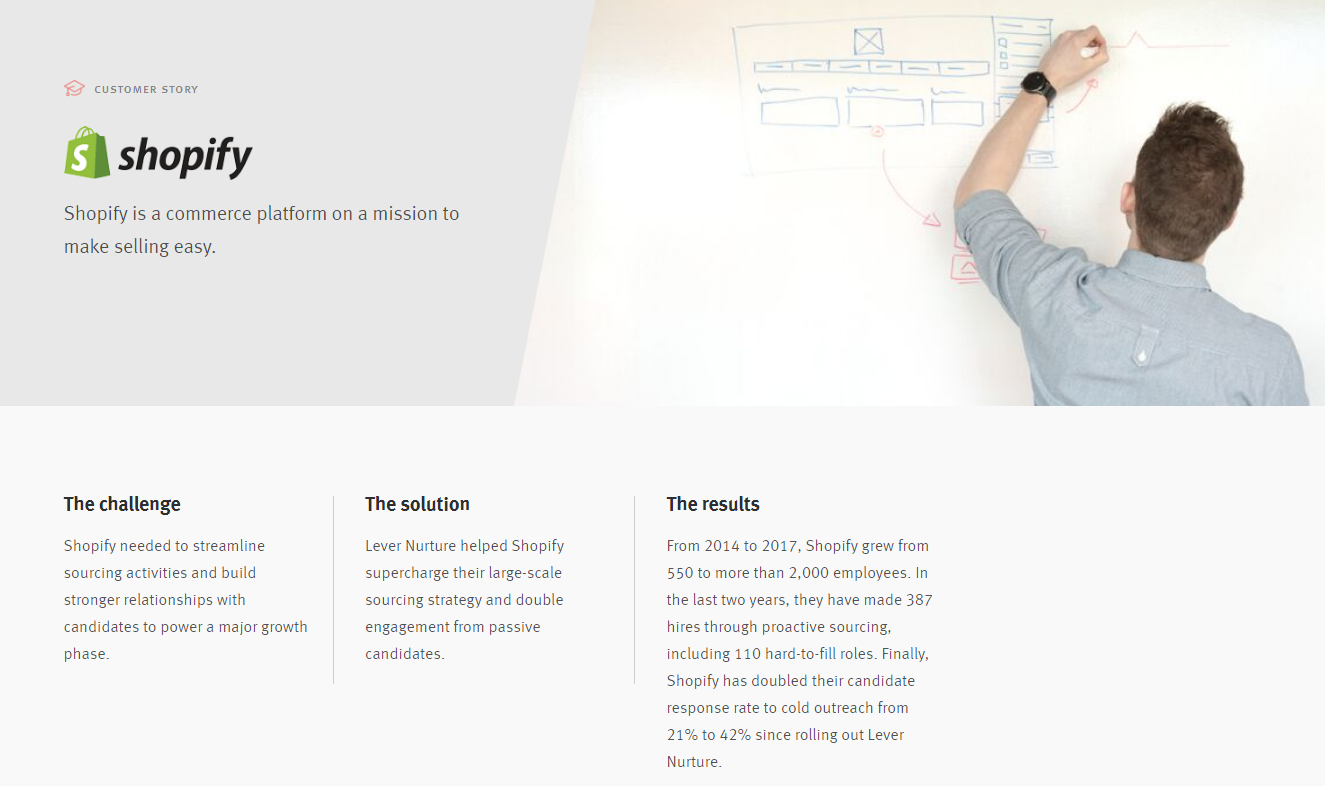 Common mistakes top B2B startups made
The "nobody's perfect" line, although widely overplayed on reality TV, pretty well sums up the case study shortcomings of some of the nation's can­-do-­no-­wrong tech startups. Of the companies we analyzed, Lever and Slack have a really tight case study game with near-perfect SketchDeck Report Card scores. Most companies trampled in the "B" or "C" territory, but almost all of these companies made some easily correctable mistakes.
Here are the top 4 mistakes these tech unicorns made (so you don't have to).
4. Too Long (high word count)
You have the stage but your performance shouldn't be a 72-hour live­stream installation at the MOMA. Think of each case study as a halftime show at the super bowl. Hit your best-­ofs and high notes quickly and move on. You can only expect your reader to be interested for so long, so spare them the details.
A good case study shows the problem, challenge, results and solution like each word counts (because it does).
DataBricks, a cloud-­based big data analytics platform that's raised a cool $50M, averages 7 pages (or 1200 words) per case study. For many potential customer bases, this is unnecessarily long.
3. Too few or weak quotes
Like a bullet list, headline or chart, people read quotes. This is especially true if like a chart, you differentiate the look and feel of quotes. Include quotes that highlight your company's purpose and solution. Origami Logic, a startup that was bought by Intuit, helped companies manage marketing signals from campaigns, channels and devices. In their case­ studies they include an average of just one quote. The chosen quote feels ambiguous, filled with jargon and comes from an unnamed employee from the customer company. Like this:
"Managing the global digital presence across our portfolio of brands is extremely complex. Origami takes the ever-expanding mountain of marketing data related to that process and turns it into information and knowledge that's easily understood and valuable." Social media manager
On average, the case studies we analyzed had one customer quote per 150 words.
2. No CTA or lead capture
Case studies aren't leisurely reads stumbled upon by someone looking for cat memes. Case studies are read by potential customers. Not including a CTA to be used to capture email addresses, schedule a demo call or even upsell existing customers, is like going to dinner, reading the menu and then finding out they're not taking orders.
Shockingly, 34% of case studies we analyzed had no CTA.
1. Lack of quantitative results
Depending on what your company does or the types of customers you serve, quantitative data may be hard to come by. We get it. But please, come up with some (even if it's just one) meaningful number to share. Anecdotal or qualitative evidence can tell a great story, but nothing stands out like numerical results.
How to create a winning case study
Well, that's all, folks. We've scratched the surface on what we found in our analysis of 11 top B2B startups and started you down the path toward case study greatness. To find out everything we know about how to create a great case study, download our free eBook. In our ultimate how-­to guide, we share best practices for choosing and approaching the right customers, reveal the magic content formula, explore how to develop a writing style, crack the code on distribution and uncover the never-before-­shared results of our B2B startup case study analysis.
Get your copy of Create Case Studies That Convert: The Ultimate Guide now and create the content your business deserves.