Here's what we found:
Spending breakdown
Historical advice shows that decreasing spending in a downturn is actually a counterproductive move for a multitude of reasons. To name a few:
The cost of advertising drops during a recession, creating a "buyer's market" for brands
Brands can project to consumers the image of corporate stability during challenging times
Noise levels from competitors can drop, giving you a louder voice
Despite this, though, we know from experience that ad spend drops across the board when the economy does–as it did in 2008 by 13% in the US alone. So we asked our marketers: is your design spend remaining stagnant, increasing or decreasing?
We were pleasantly surprised to see that even though a third of our respondents did indeed decrease their spending, they were outnumbered by those who either kept spending consistent or increased it: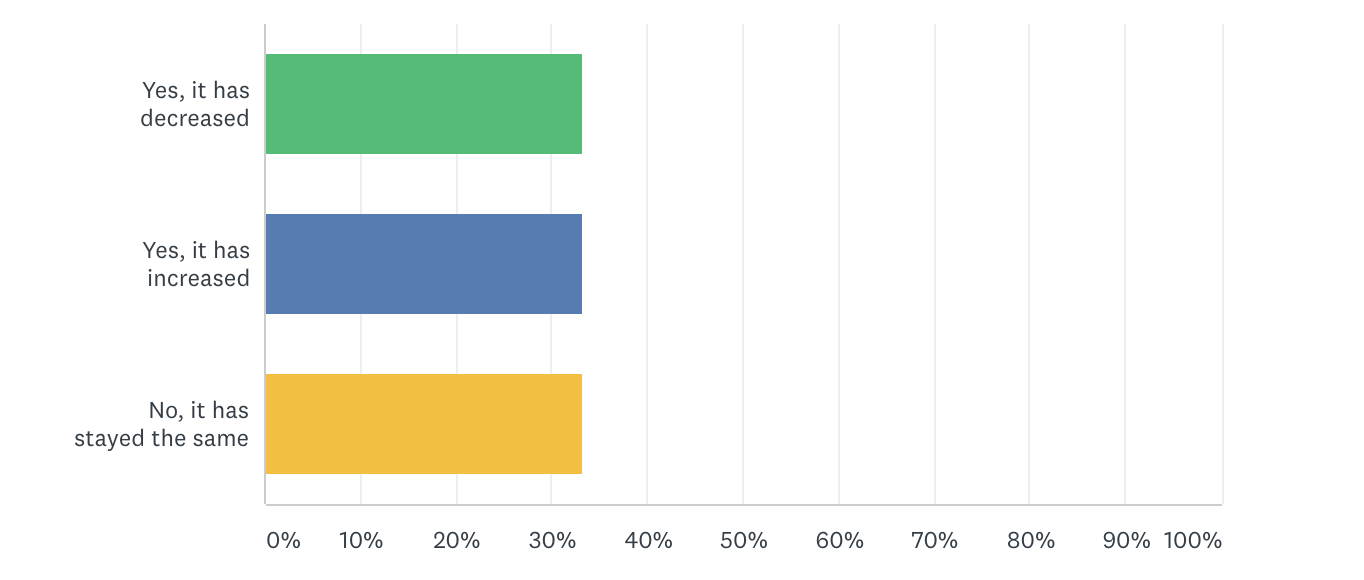 Not only that, but those that increased spending were some of the smallest, both in employee count and revenue–companies that had less than 50 employees, and brought in less than $10M in annual revenue. This illustrated that design is being recognized more and more by emerging companies as important to long-term growth.
Next, we set out to discover which collateral types exactly were being given more budget, and therefore more priority/love.
Out of the sales and marketing collateral where companies were spending more, the biggest was presentations. One-pagers and emails were tied for second place.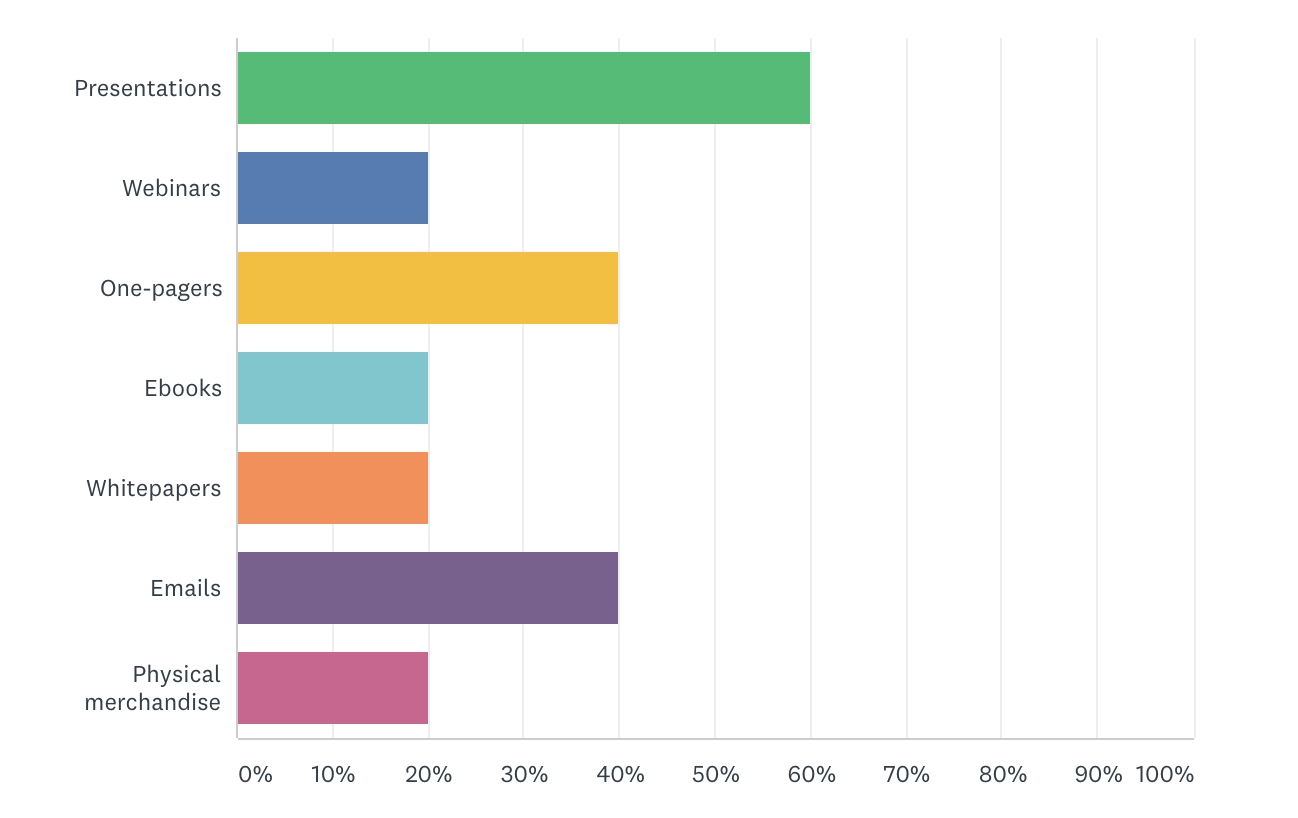 Each of these correlate well with mediums that bring a return when used effectively:
‍(P.S. As you may be able to tell from our name, decks are our bread and butter. We've written a lot on the power of presentations–you can read more articles here.) ‍
Surprisingly though, there was not as much priority placed on spending on webinars–in spite of the increase of virtual meetings and events. Which leads us to our next topic:
Virtual vs. in person
Before COVID-19, virtual events existed, but not out of necessity. Since the onset of COVID-19, though, virtual events have spiked 1,000%–with 52,000 of them on 6Connex alone.
This belief of live, human connections, even if conducted via the web, was held by the majority of our respondents–not one of them said they believed virtual events were less valuable than they did before: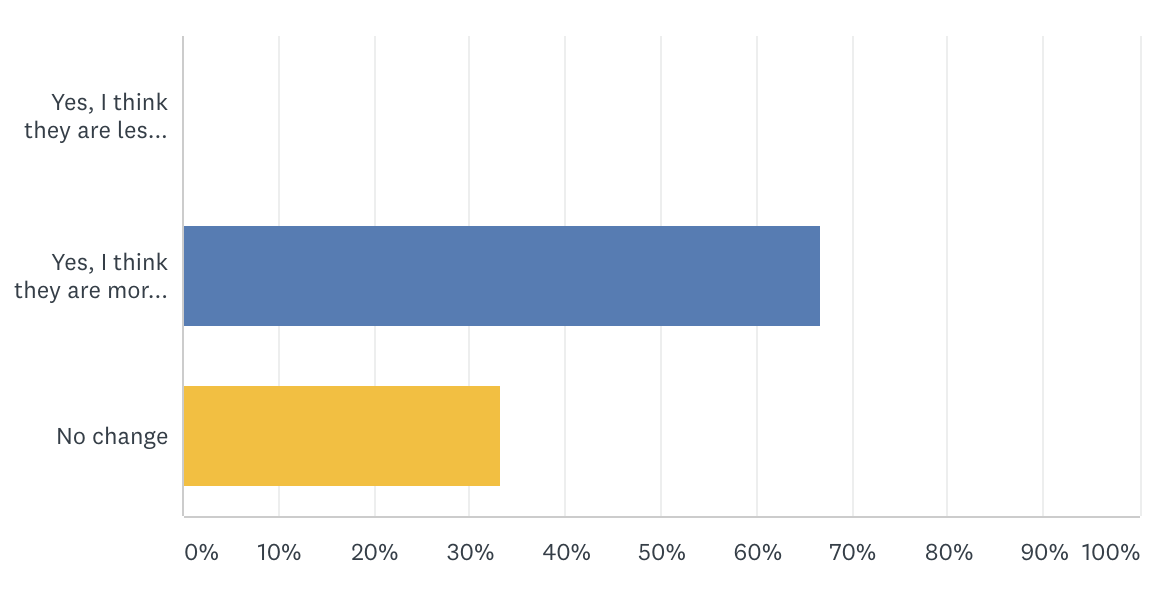 With that being said, there was a corresponding uptick in marketers believing in-person conferences were more valuable than they believed previously: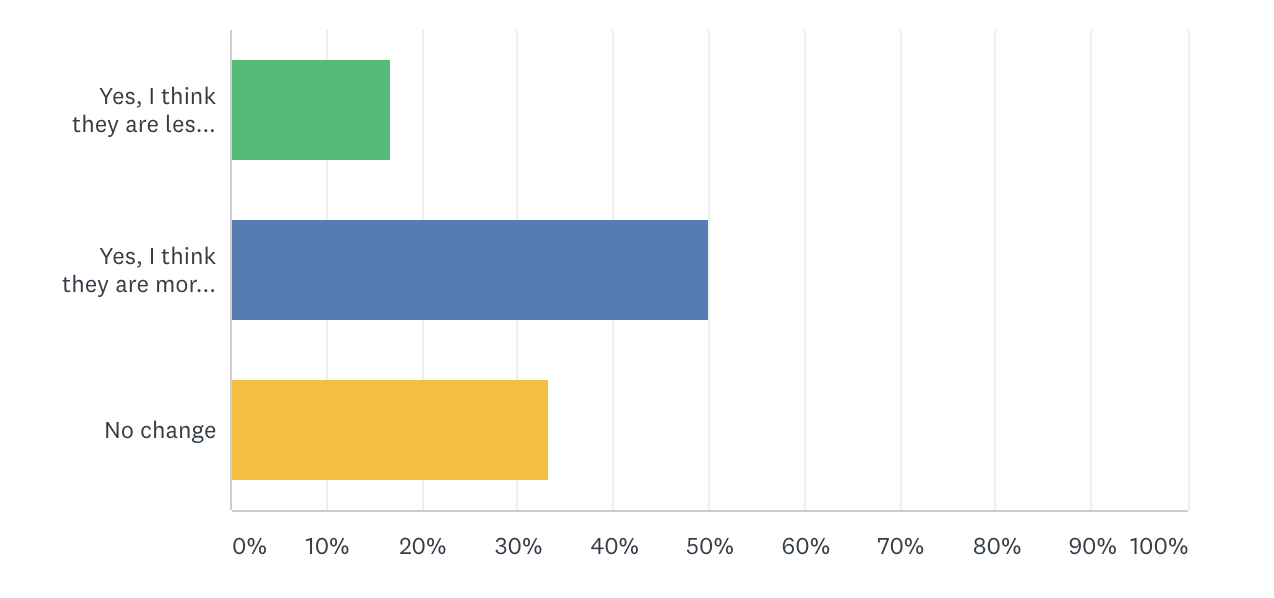 Virtual meetings, however, did not bring as many warm fuzzies for all. In fact, one third responded that they felt virtual meetings were less valuable than they believed previously–a fact that very well may be due to virtual exposing the inefficiency of many business meetings–the express cause of $37 billion lost every year in the US. (Should you need some tips to improve the meetings you are holding virtually, check out our CEO's tips here.)
Design as the differentiator
Without a crystal ball or crystal ball, it's hard to know exactly what the end of 2020 or even the beginning of 2021 will bring.
But we do know how people are feeling now–with 50% of our marketers saying that they "somewhat agreed" with the statement that their sales and marketing philosophy has permanently changed from this experience. With this and other marketplace shifts in mind, it's likely that the strategy and spending changes we're seeing now will have long-term implications.
No matter what the future holds, here at SketchDeck we're ready to enable your business to continue increasing its impact amidst any economic situation. If you want to talk more about how we can help, reach out here!