While a strong narrative is critical to any great presentation, so is another ingredient: design. In fact, it's been shown that presentations containing visual aids are 43% more persuasive than those without.
However, there's one issue: not all designs are created equal.
With around 30 million PowerPoint presentations created daily, there's no doubt you've seen your fair share of poorly-designed presentations, especially when the one in question was created in a hurry. Clients often come to us with this exact conundrum–they need a great-looking deck, but have little to no time to build it.
This is where SketchDeck comes into play. We've been able to work with short timelines since our company's inception, but wanted an even quicker way to give time-constrained clients designs they're proud of. This desire led us to a concept we're pretty proud of: presentation design kits.
These kits are essentially skeletons to which your brand can be added to make a living, breathing deck. Not only that, but they allow our design team to half the expected timelines without sacrificing the quality of the design itself.
To explain further, we recently got one of our fabulous Project Managers, Katie Swietlik, to join us in a special webinar:‍
Even if you don't have time to watch now, though, we'll break the main points down for you in this article. So without further ado, let's dive deeper into some of our most popular presentation kits and show them in action!
Meet: Empire State of the Decks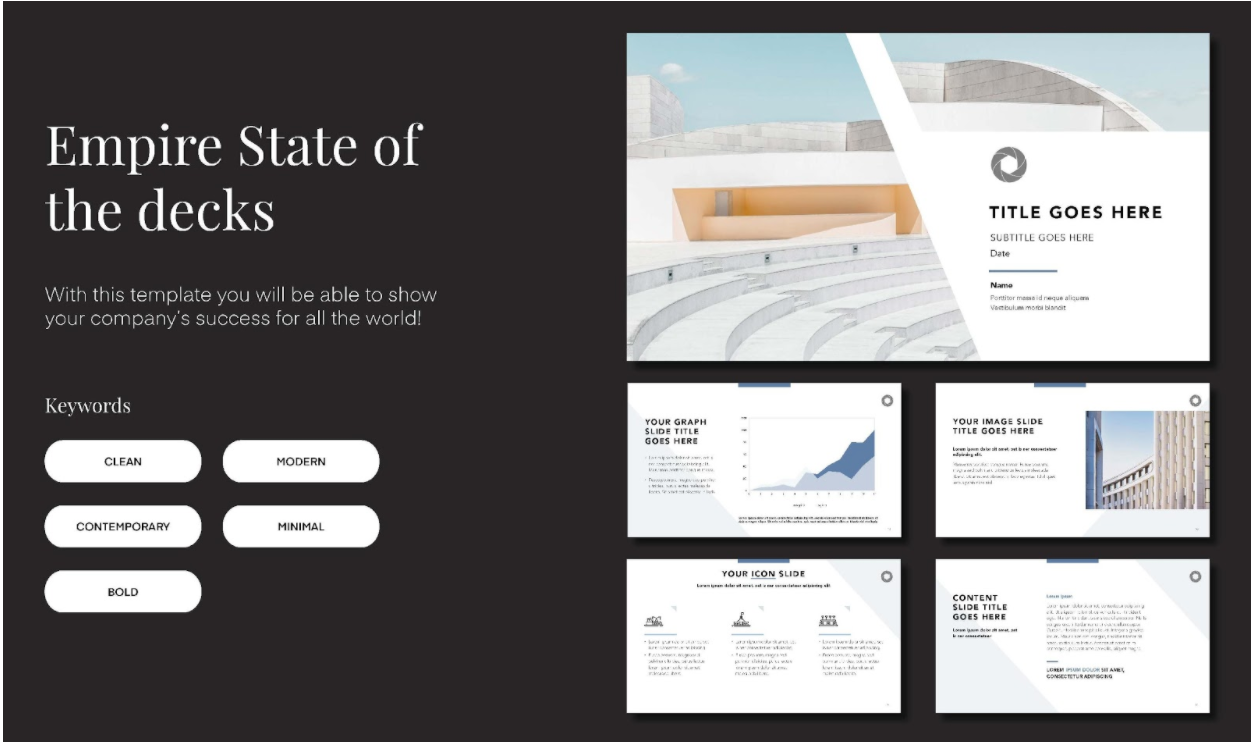 This is one of our most popular kits–one which features clean, minimalist design. The design features a nice balance of visual imagery and textual content, making it appealing to many. On top of this, it's fully customizable–meaning clients can optimize this design based on their unique brand identity, with brand fonts, colors, and more.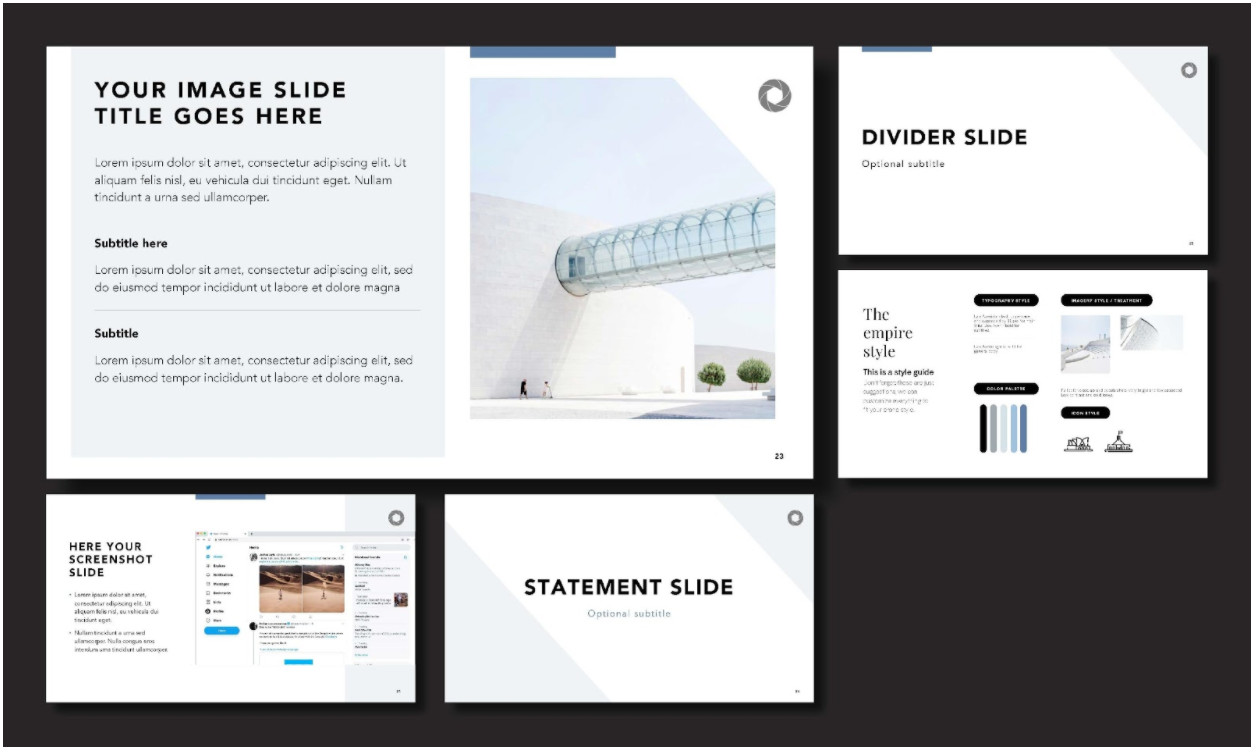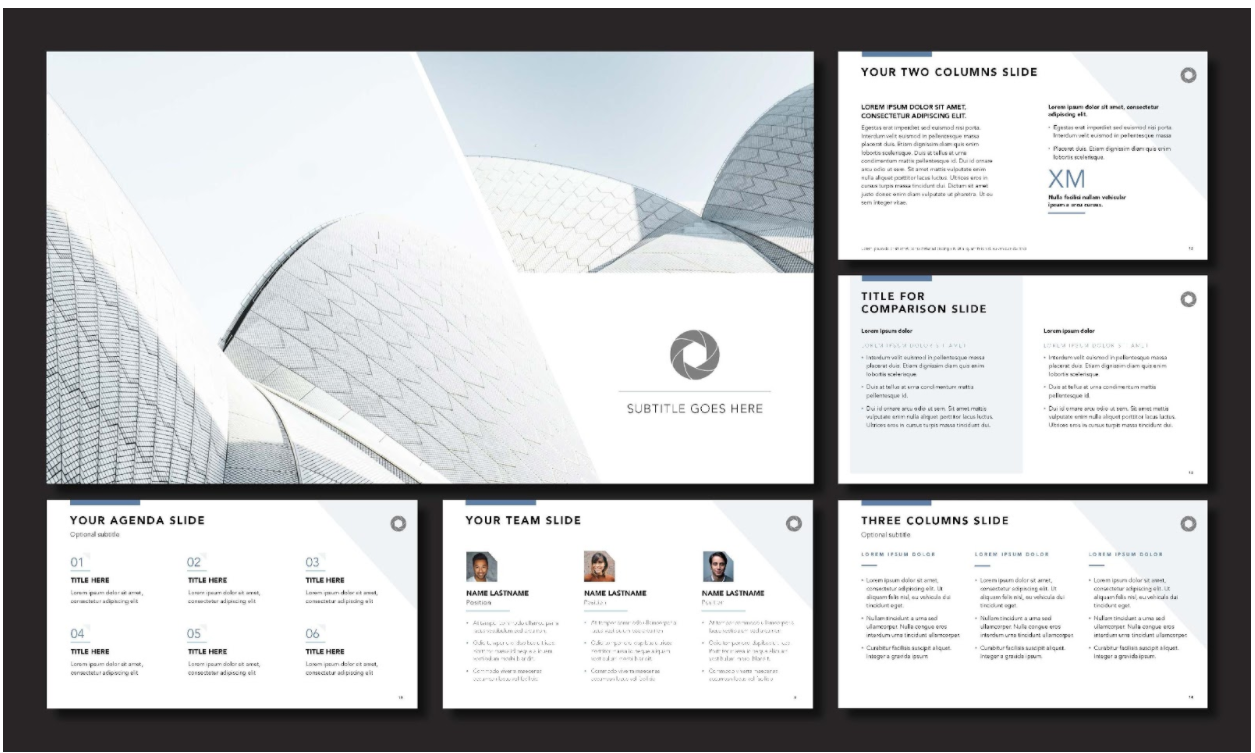 So even though it starts as a template, there's plenty of room to make it your own. And the even better news? You don't have to do it alone.
The SketchDeck difference
So, what makes working with SketchDeck superior in terms of our presentation design kits? Why not just buy a template off of Fiverr or Etsy?
First and foremost, when working with SketchDeck, you'll have a whole team behind you. You'll have a project manager (like Katie!) on-hand, listening to you and your specific goals. This guidance will help you transform your deck of choice, using everything from your desired brand style to the overall feel you're going for. Then, our designers will go to work to create exactly what you're looking for.
After all, our presentation kits are simply jumping-off points. They provide guidance, but are not set in stone by any means. As a result, there remains a multitude of opportunities to be creative and showcase who you are as a brand. These kits save time and money, but your end presentation still isn't going to look like the next brand's–it's going to look like yours.
To illustrate, here is an example that uses another popular kit: The Science Deck. The design is bold, yet minimalist enough that the content becomes the star of the presentation.
This is the original kit: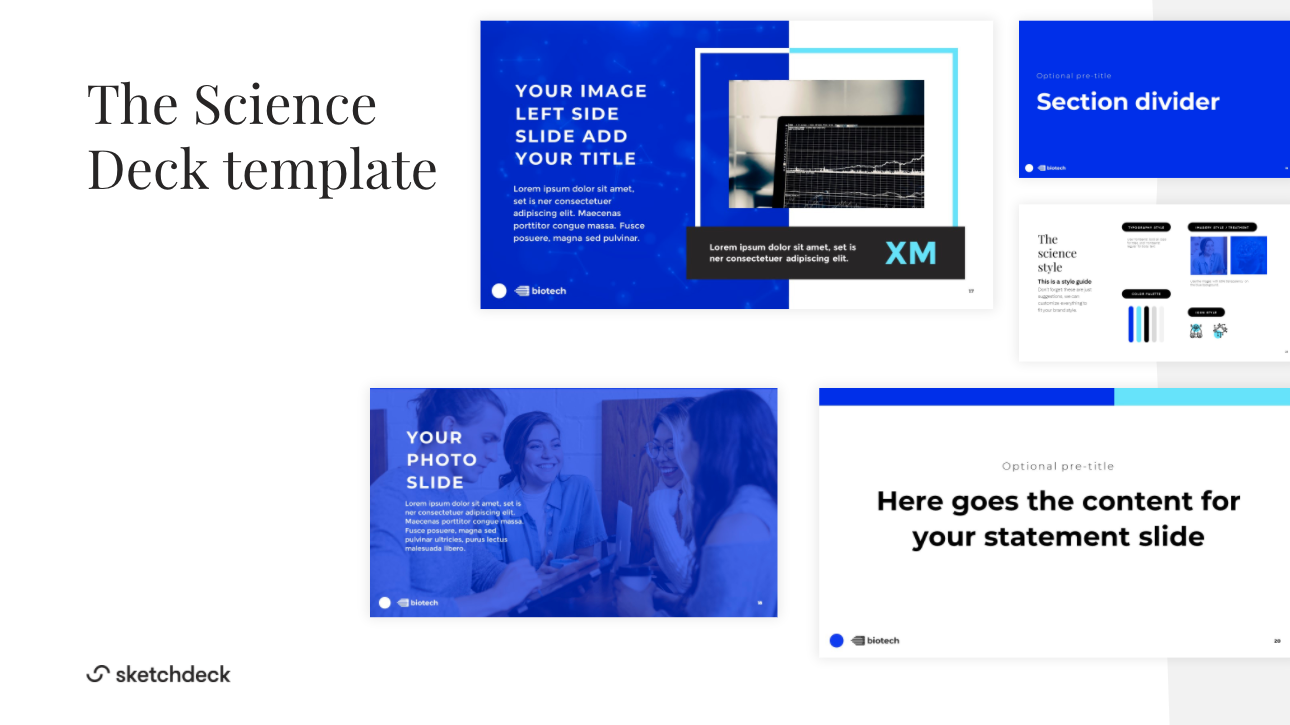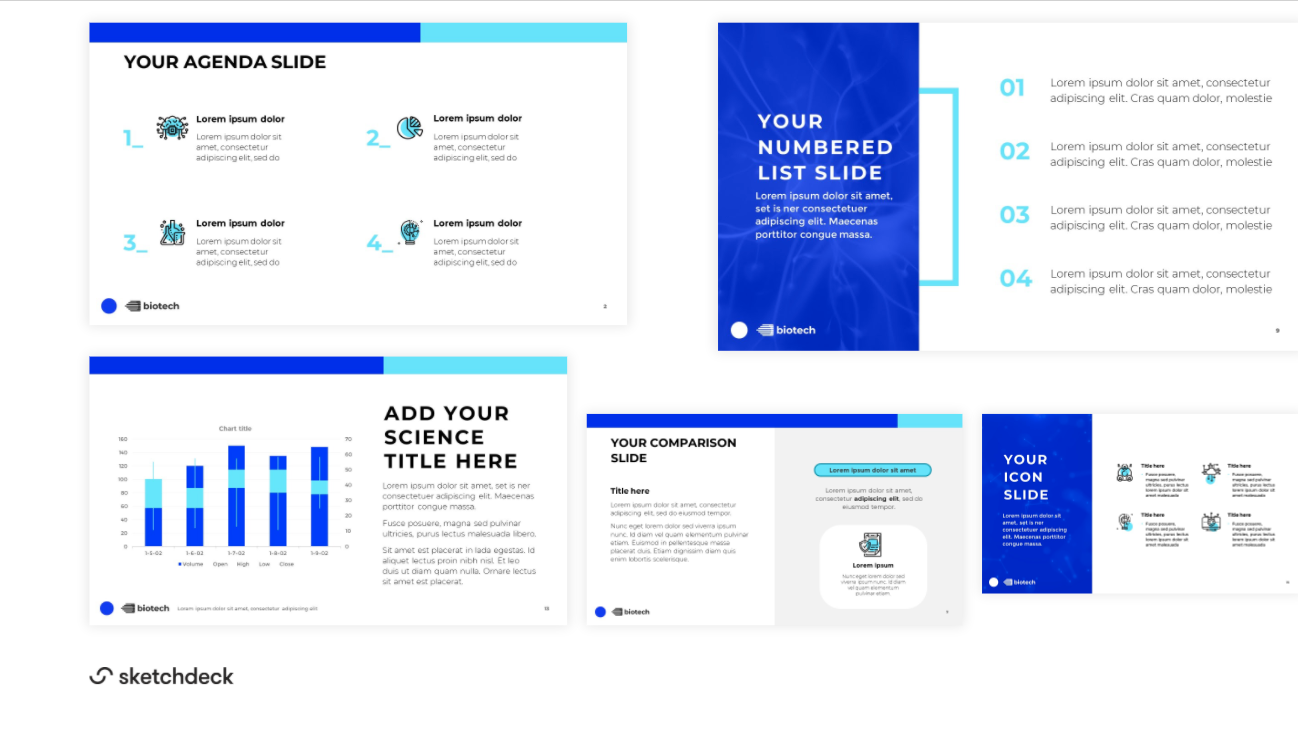 And here is an example of the deck in use: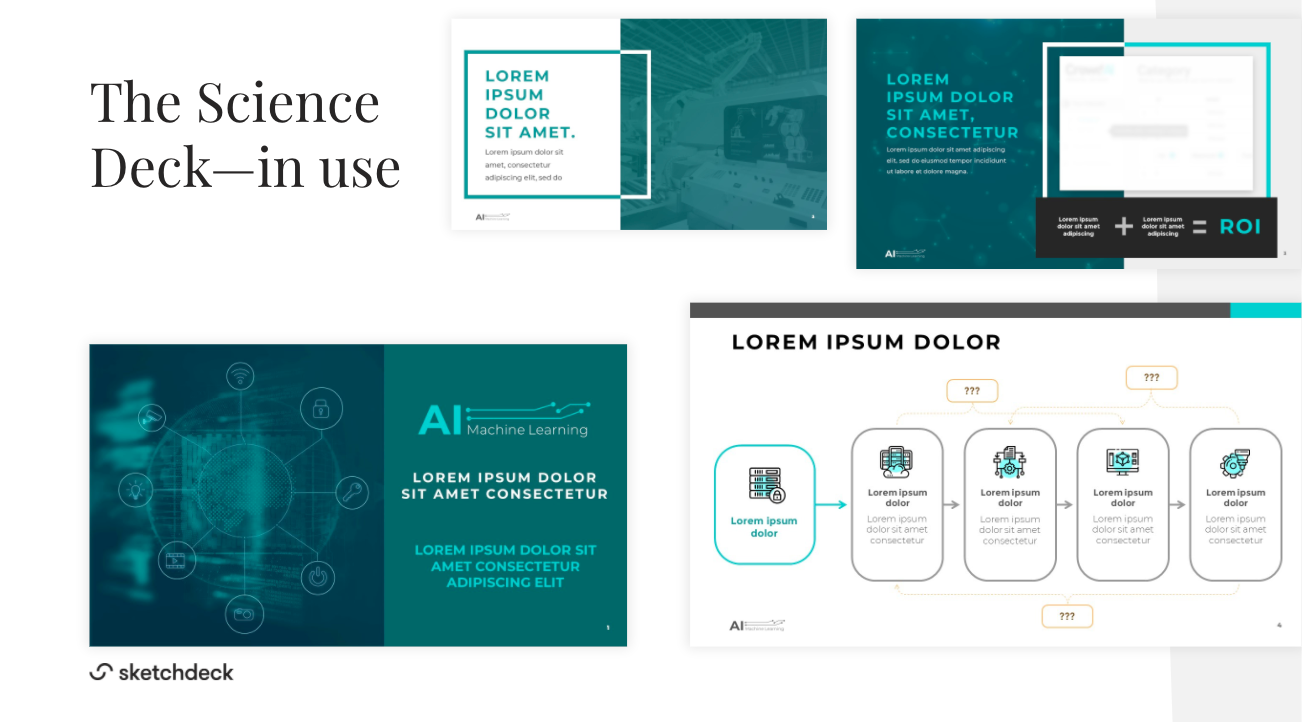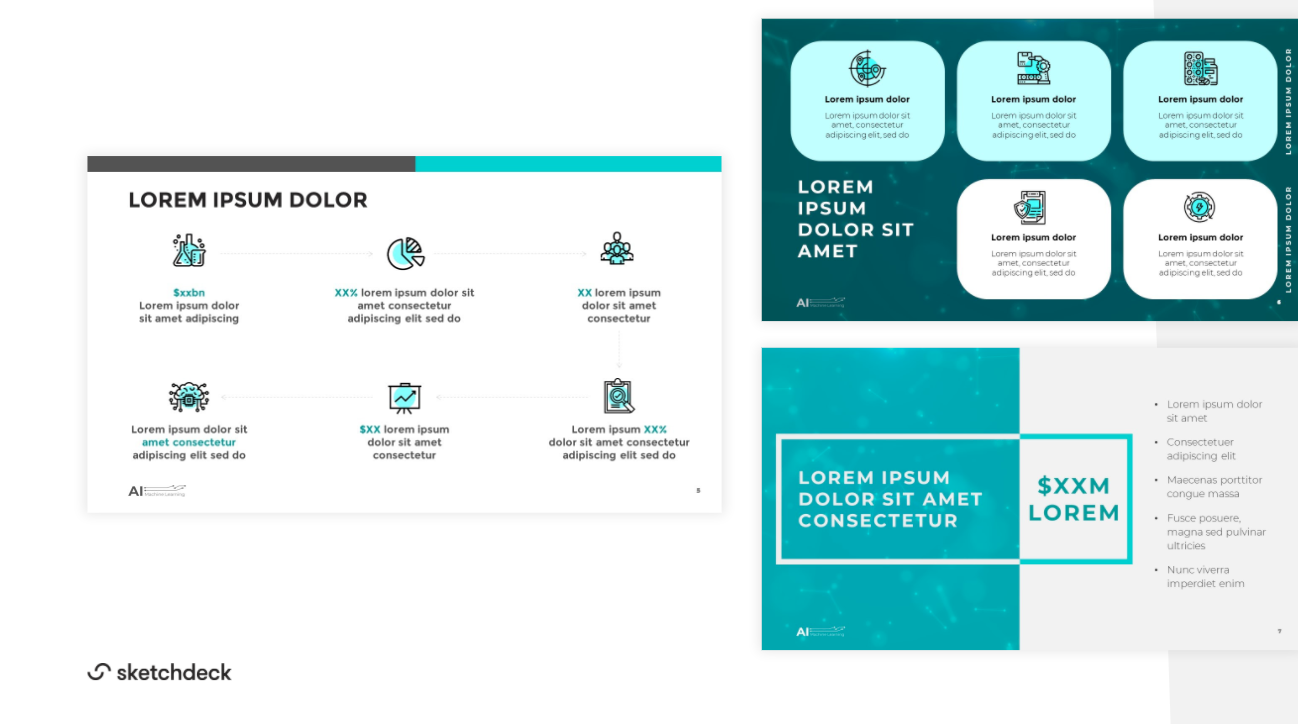 As you can see, the Science deck has been customized–utilizing a color palette, custom graphics and additional elements specific to the client. The overall vibe is similar to the original, but customized enough to where it is unique to the brand.
Want to see more?
Here is yet another deck that has been customized to meet the needs of not just one, but several different, specific brands. While the layout remains the same, the design is transformed in a way that makes the presentation standout in terms of the brand's overall energy and identity.
First example: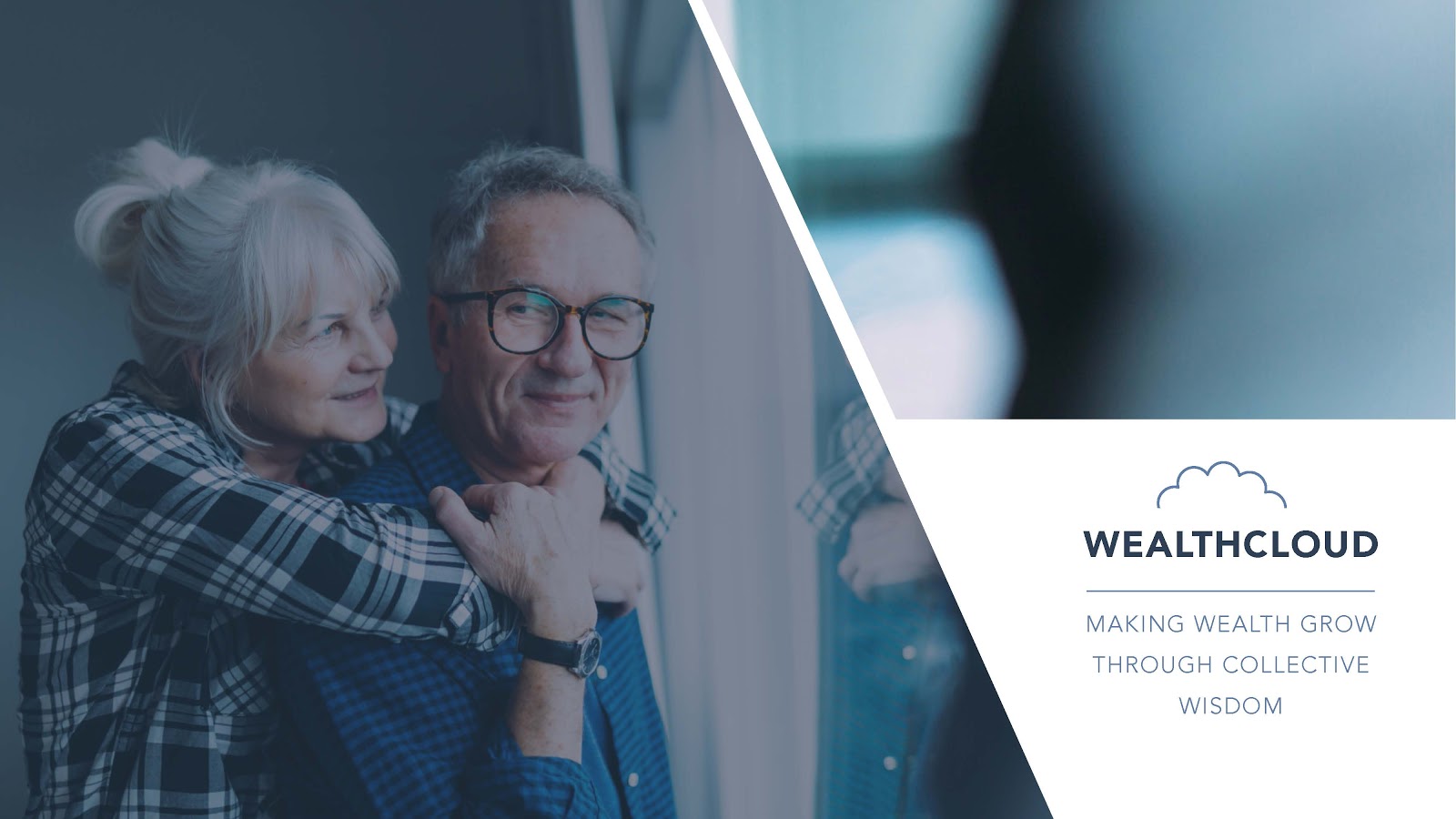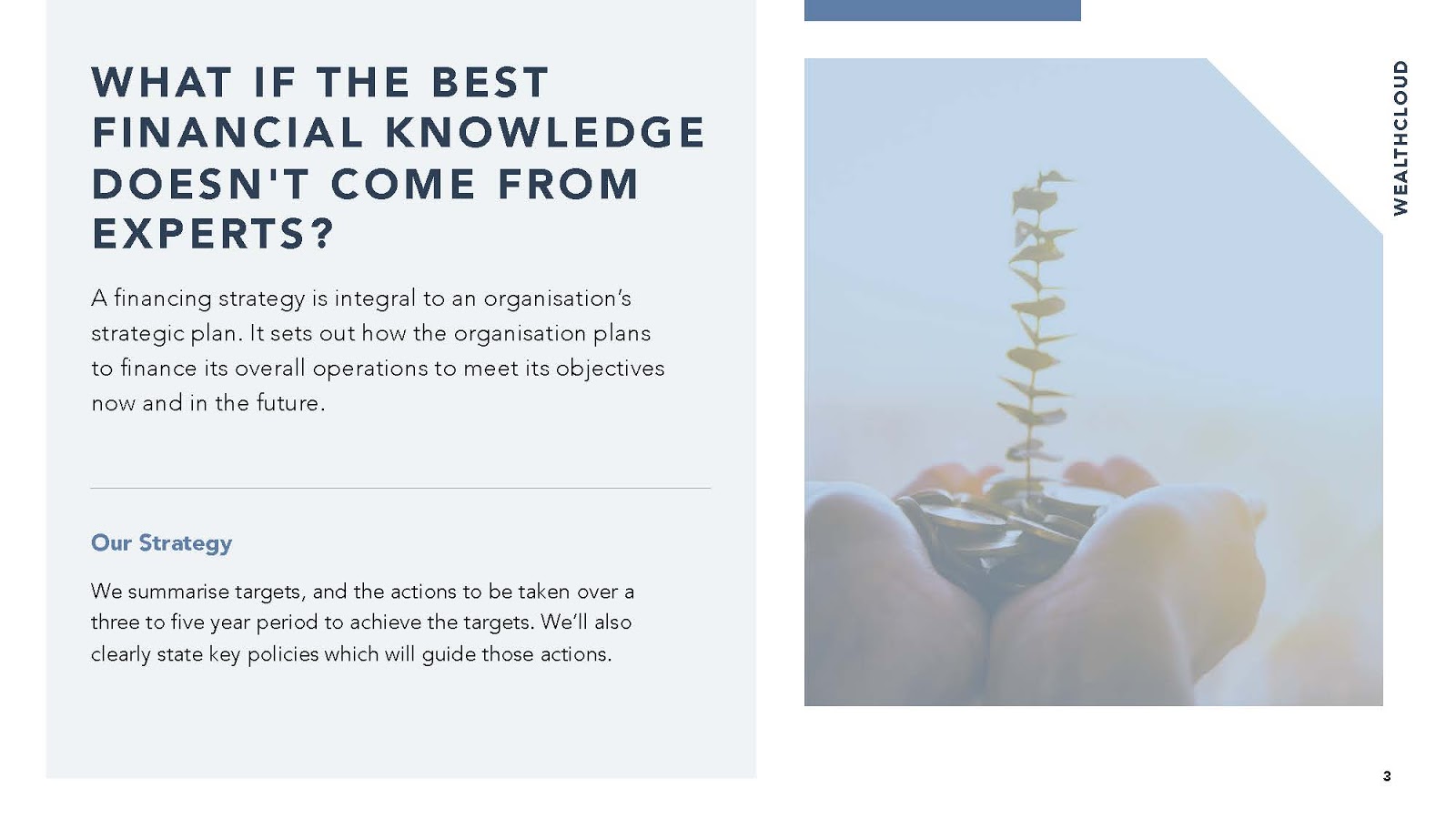 Second example: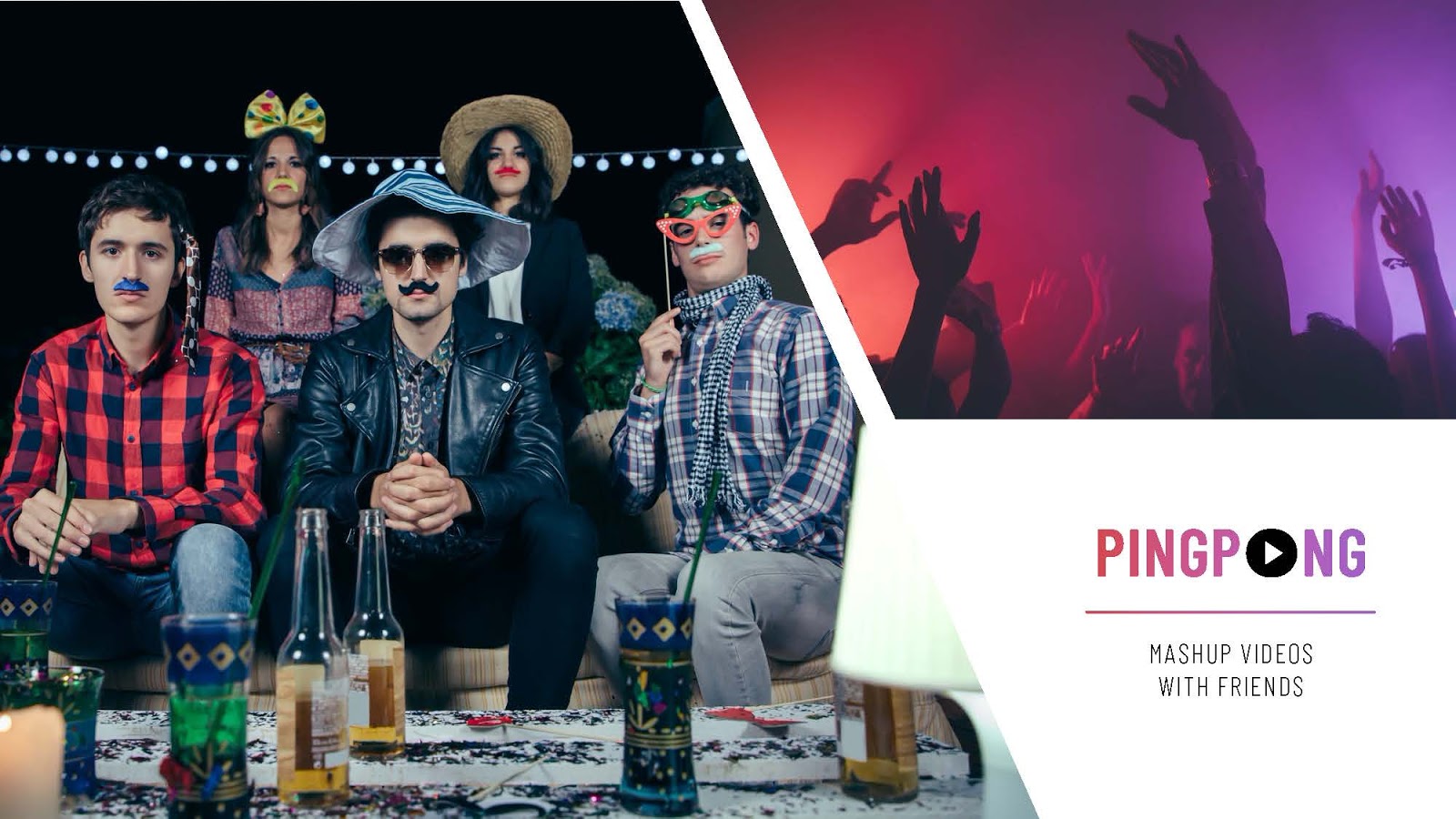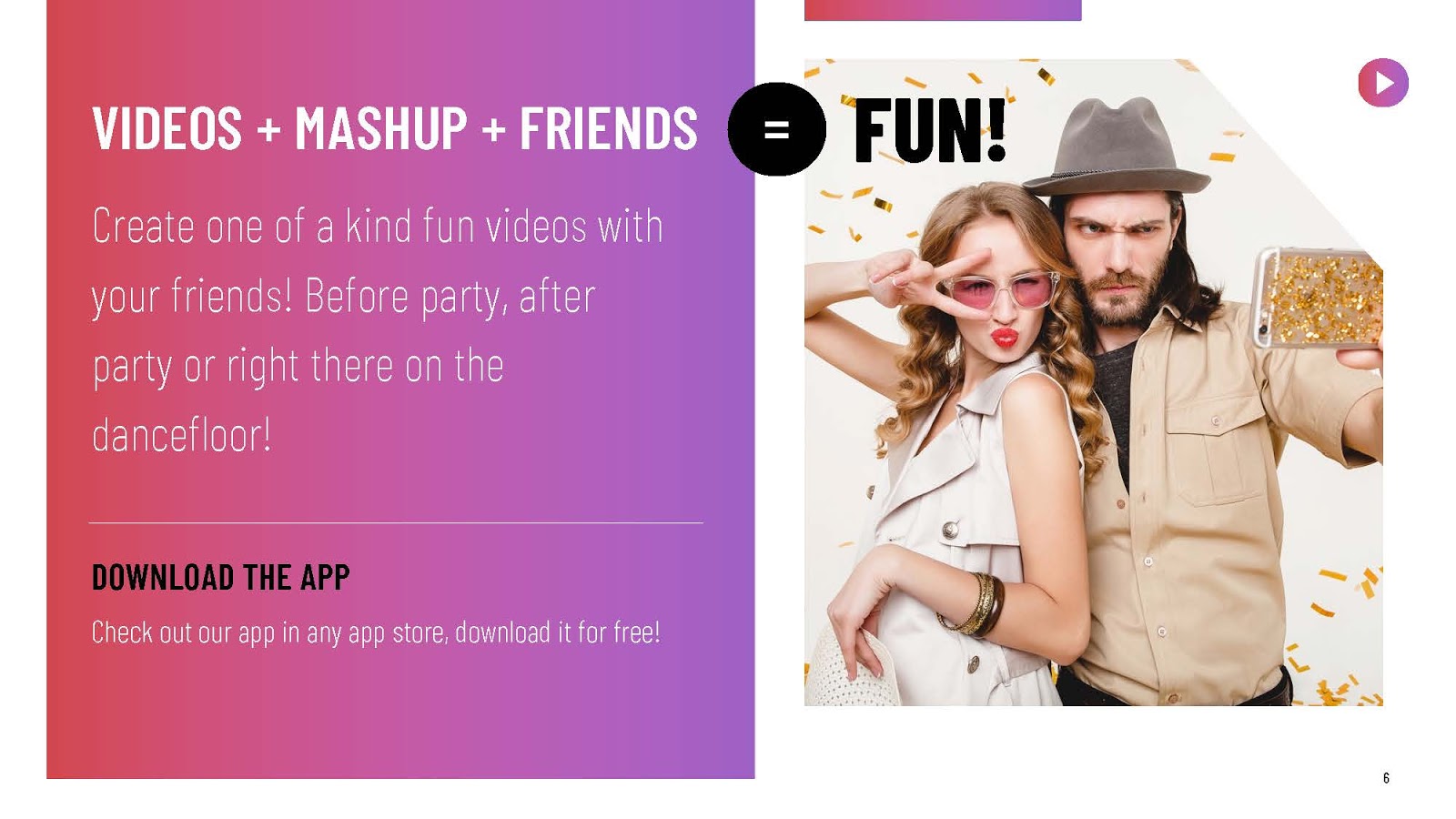 Third example: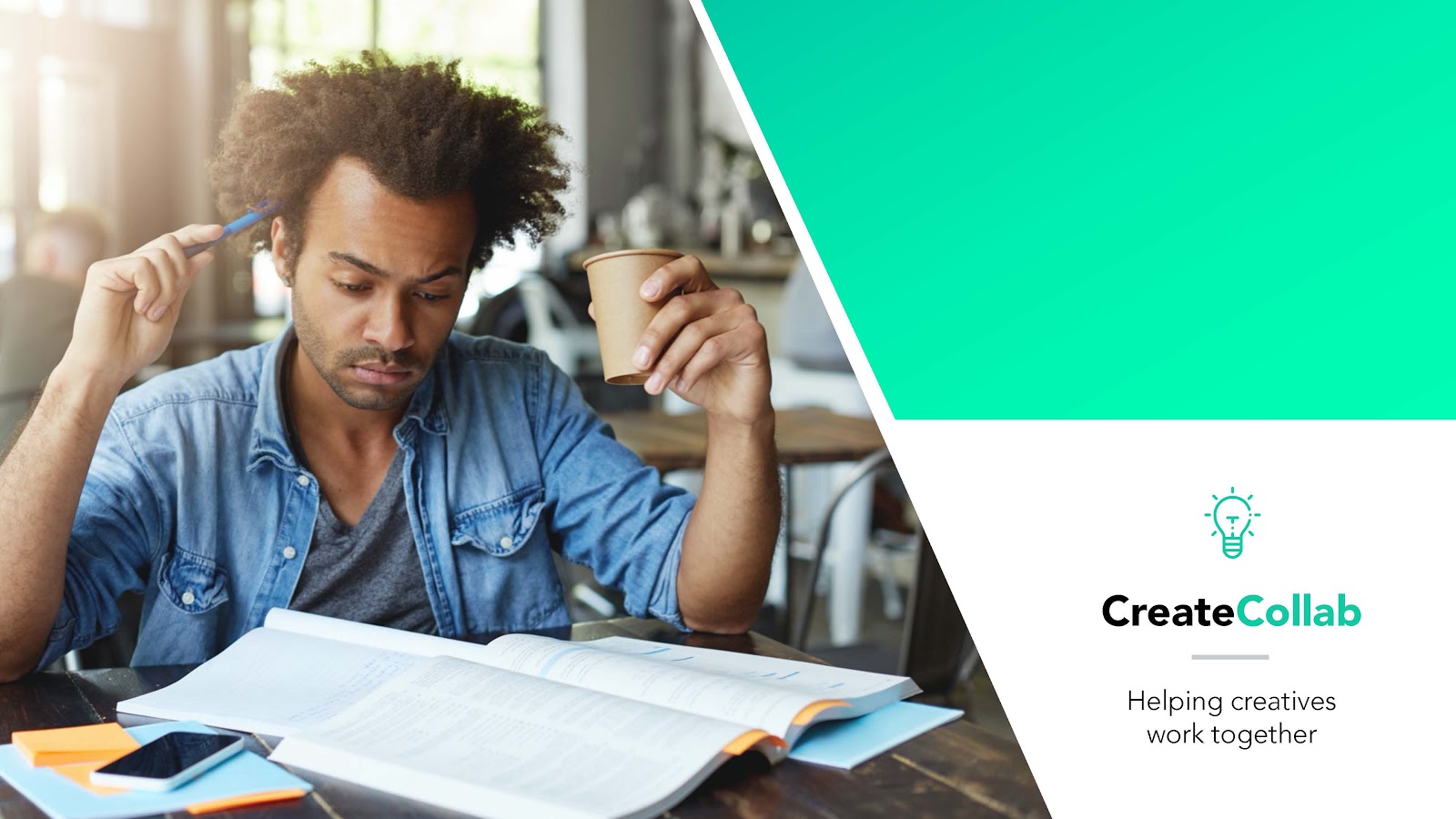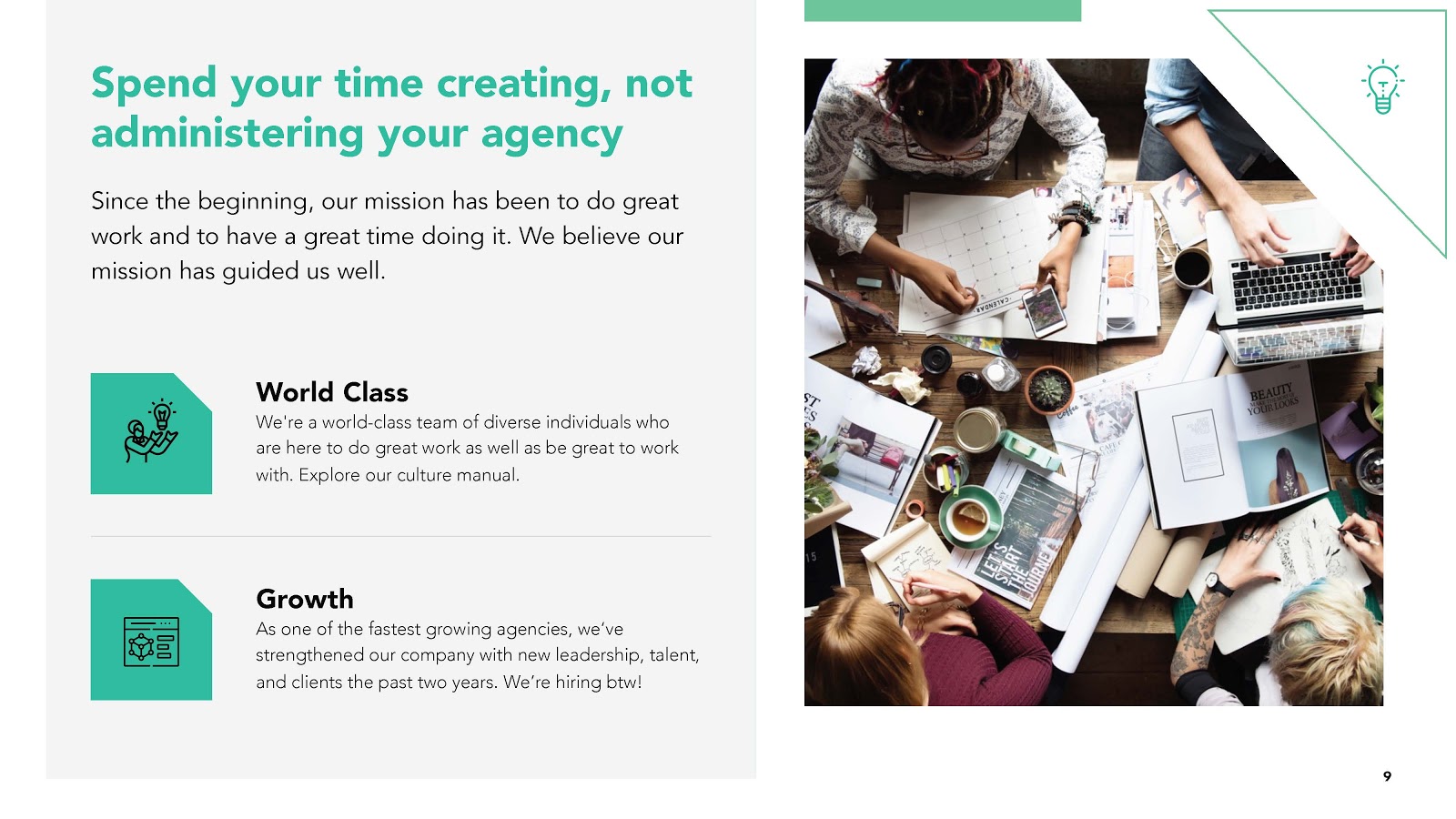 These examples clearly show that although the same kit was used, the designs do not look "cookie-cutter"–not in the slightest. They each have their own style, one which matches the brand's voice. And while the following brands are in no way related, they each benefit from this pre-designed style.
As you can see, varying color palettes significantly alter the overall look of a design. Visually, the first example is softer compared to the second example and even the third. This clearly shows how impactful even a simple change in color palette can be in terms of a brand's image, identity, and message. Add that to font changes, brand-specific graphics and more, and your deck has its own distinct personality.
How the process works
So, why use our kits? If you are currently short on time or low on budget, a pre-designed deck is a great option. It is also an ideal choice if your brand guidelines are fairly flexible. (If your company has a 30-page brand guideline document, this wouldn't be the right fit.) If your brand's style guide just includes the basics, such as the desired color palette, fonts and photo styles, all can be easily applied to these templates.
If you have decided this is the route for you, here's what you can expect from the process itself.
First, you'll work one-on-one with our design team. As stated before, you will be assigned a project manager–he/she will work with you to manage the process from start to finish, helping ensure that the final presentation is representative of your brand.
Next, you will provide your brand guidelines. But not to worry–if you don't have many, that's okay! As discussed above, those who have fewer brand guidelines tend to benefit most from presentation kits.
Then, once we have all the information needed, our design team will take your content as well as any associated guidelines, and run with it! Within 2-3 days, the content you provide will be transformed into a fully designed presentation, one that can be put to use immediately.
(Note: Even if you would like a small change to be made to your presentation during the project, this quick timeline is still flexible enough to include an iteration or two. But of course, this is something that we will discuss with you prior to starting the project!)
Partner with SketchDeck to create impactful presentations
SketchDeck is here to support you every step of the way, even when your timeline and budget are tight. With presentation design kit options, we can help you quickly develop a branded deck that has your audience ready to buy-in.
Ready to get started? Try out our incredible templates by accessing our presentation design services today!