As of early October 2018, there are more than 8 million reported cases of COVID-19 in the United States–over 860,000 of which are located in California.
Almost all industries have been negatively impacted, but perhaps none more so than the restaurant industry. In fact, 1 in 3 California restaurants are expected to shut down permanently due to new COVID-related rules and limitations.
During these trying times, it's important for us to all come together for the greater good.
Here's how SketchDeck lent a helping hand to the state of California.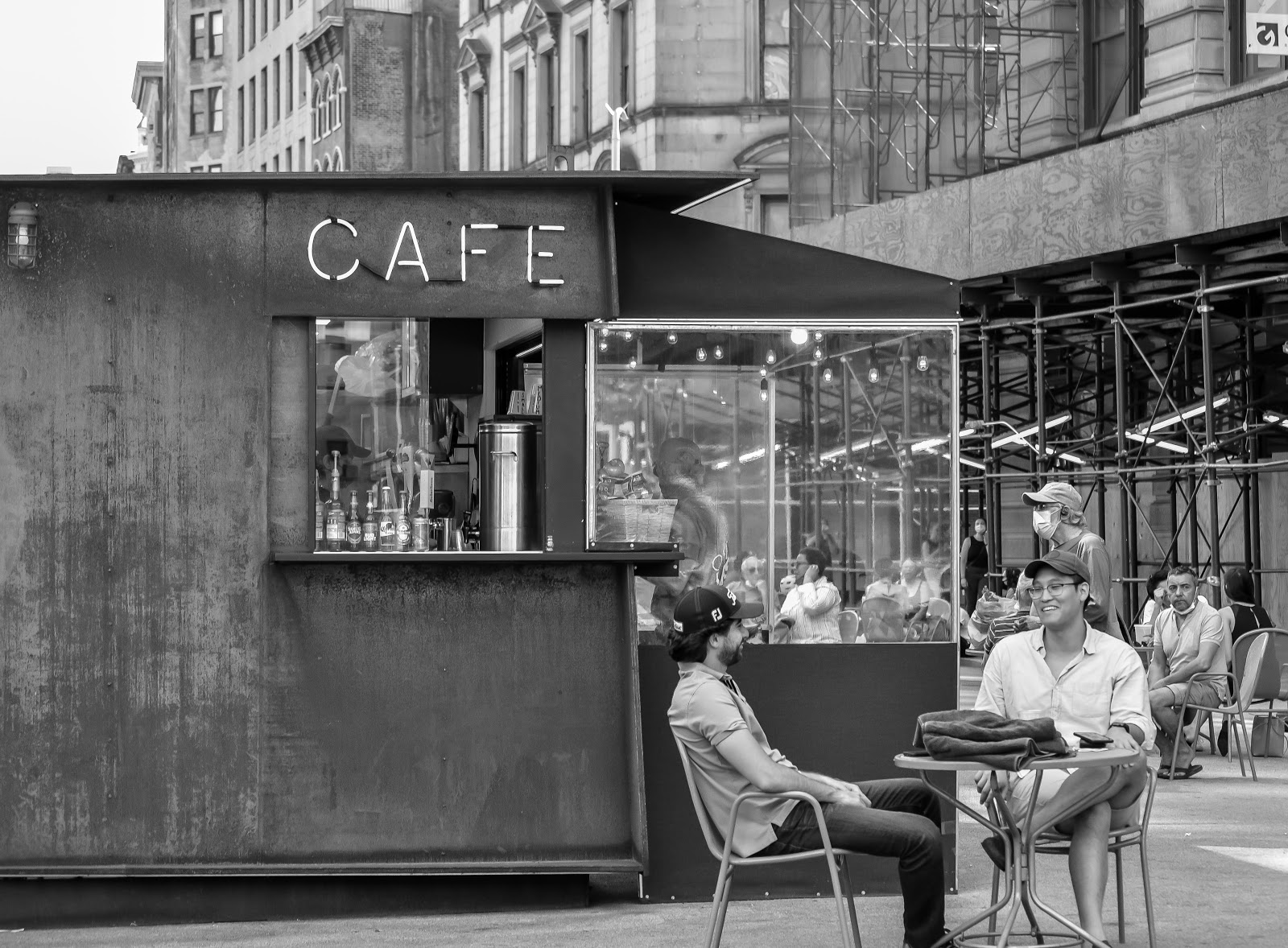 California considerations for outdoor dining
With restrictions still in place, California restaurants unable to offer outdoor dining and/or curbside pick-up have suffered large financial losses.
Many restaurants are pivoting by going outside, even if they do not have a designated patio space. Multiple cities are allowing restaurants to use sidewalks and parking spaces in order to create an open-air dining experience.
But even those with this ability are facing unique challenges, particularly in regards to disability access and compliance. There are still major considerations and limitations to take into account, including the Americans with Disabilities Act and the California Building Code.
For instance, a restaurant cannot block anyone's ability to pass safely. Since there is often a significant gap between sidewalk seating and street seating, restaurants must also ensure a safe and accessible transition. There are also additional considerations to consider, such as those surrounding the relationship between mandatory masks and those with hearing impairments.
In many cases, businesses are simply adapting to the best of their knowledge and ability. Often, businesses who are non-compliant simply lack the resources they need–they're unaware of all the regulations.
That's where the CCDA comes in.
How SketchDeck helped the CCDA
The California Commission on Disability Access (CCDA) provides educational material and information regarding disability access requirements. They actively work with businesses across California with the primary goal of promoting disability access through dialogue and collaboration.
To better communicate and distribute information pertaining to outdoor dining regulations, the CCDA was in need of visual material.
So SketchDeck stepped up to provide a well-designed, easy-to-read guide.
Collaborating with the CCDA, the goal was determined: clearly communicate all disability access considerations, focusing specifically on curbside pick-up and open-air dining.
We offered the CCDA 2 samples so that they could choose which design best represented them and the message they wished to share. Both designs were interactive, and therefore allowed readers to click on social icons and links to learn more.
First up was this design: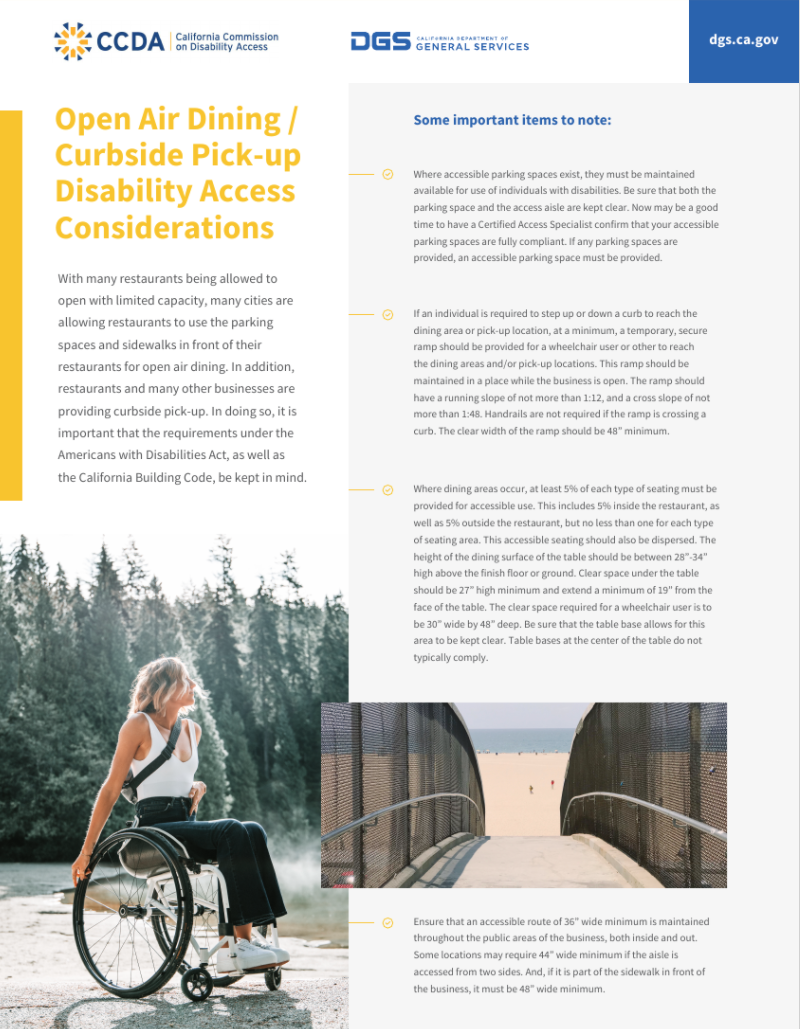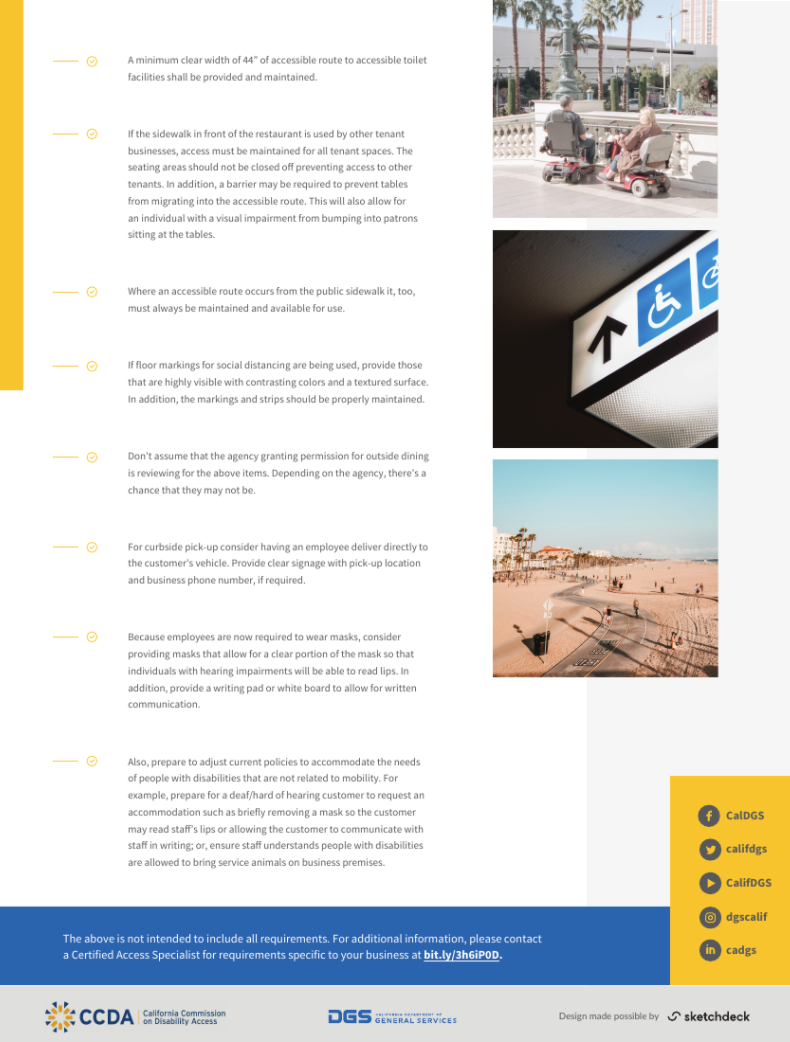 As you can see, each requirement is laid out in a simple, visually-appealing format. This makes the content much easier to digest and share.
Then, we offered a second design: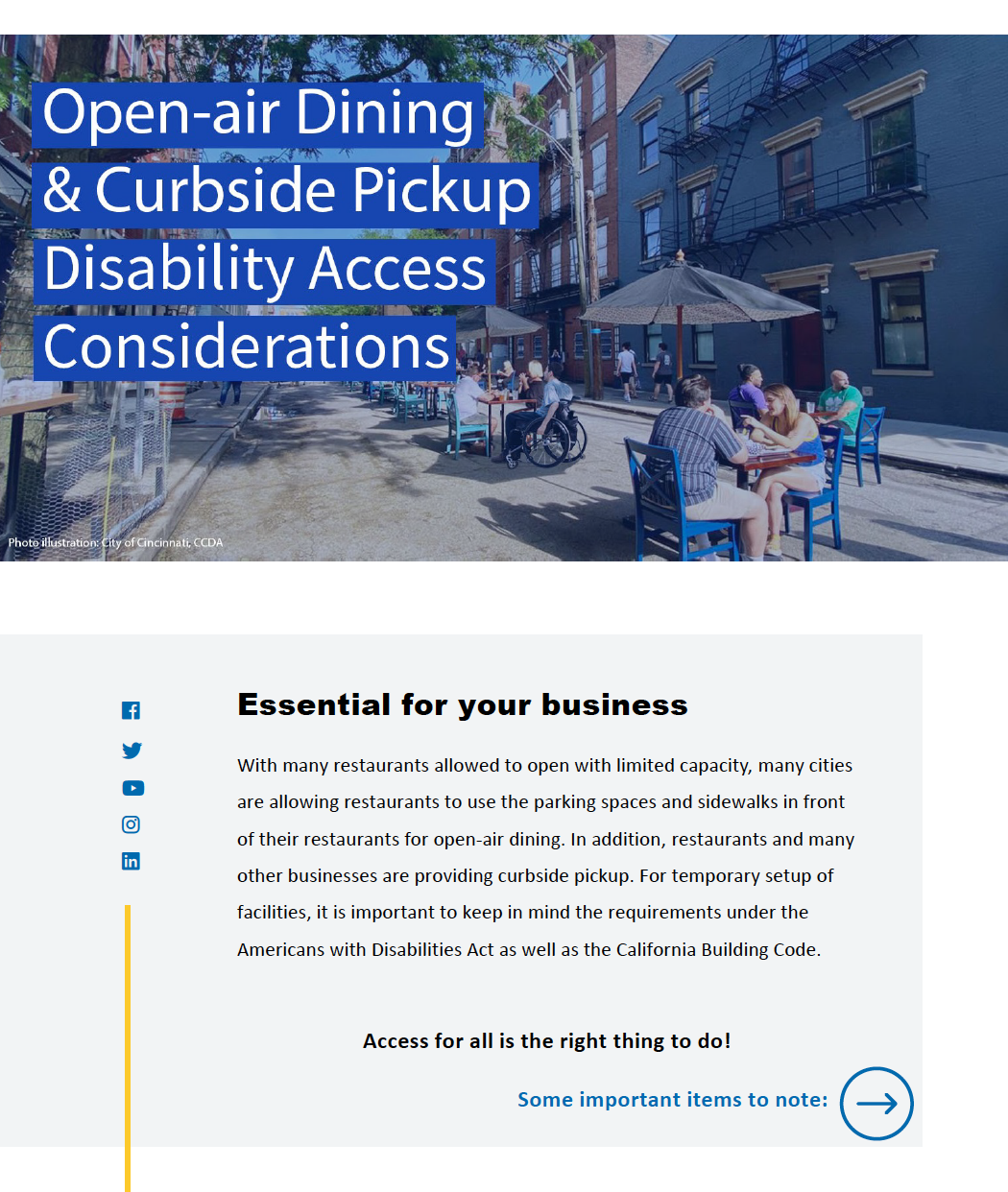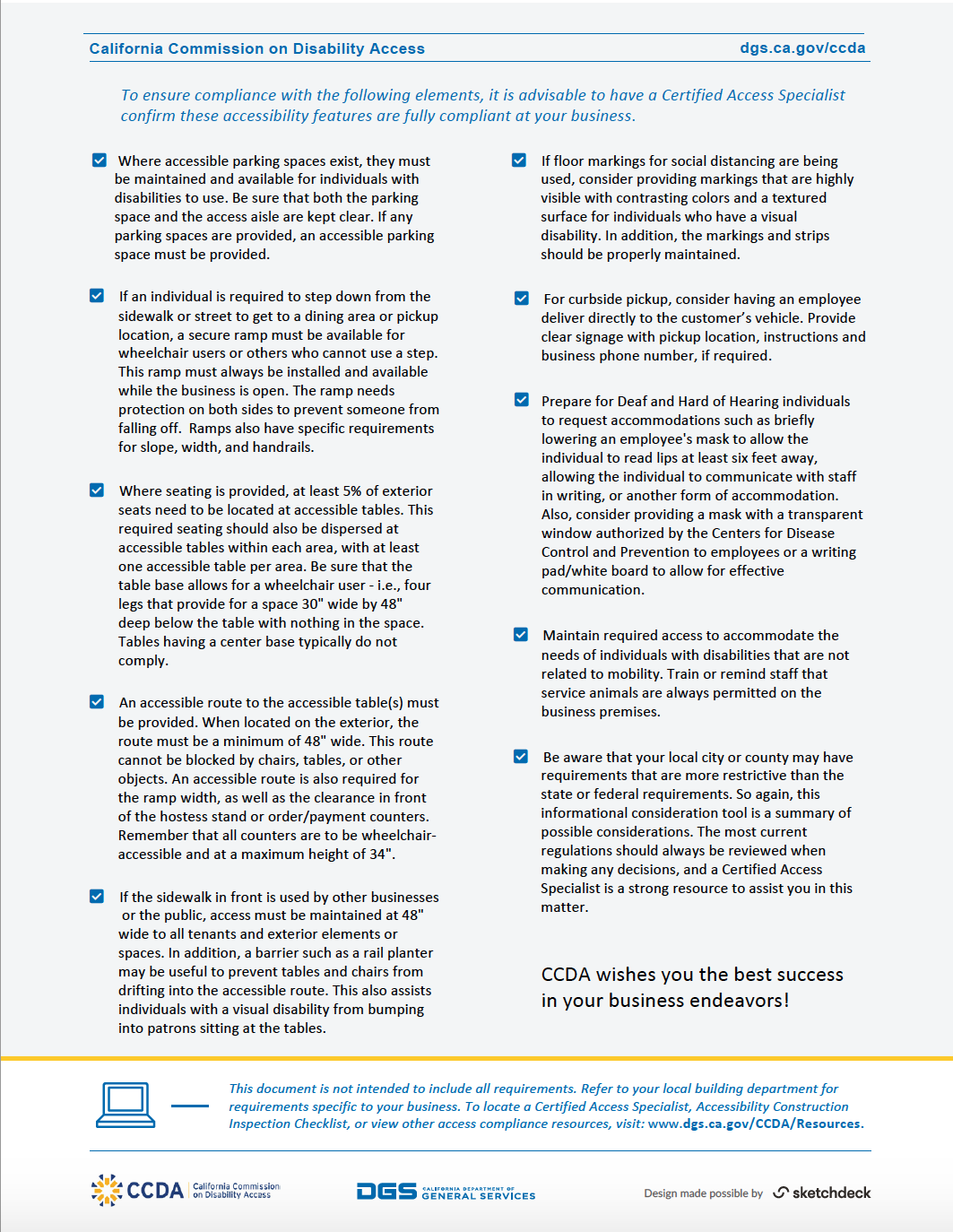 The CCDA chose this design, which is based on a two-column checklist format. This guide acts as a clear "cheat sheet"–one that could be easily hung in a restaurant office and shared with employees. It's the perfect, summarized starting point for restaurants who wish to make the transition while remaining compliant.
And despite the breadth of information, the text layout keeps the document from being overwhelming. This, in turn, helps ensure that each point is carefully considered and that nothing is missed.
The impact
The restaurant industry is a driving force in California's economy. As of 2018, there were 76,201 California establishments where diners could eat and drink–creating close to 2 million jobs, or 11% of the state's employment.
Amidst a pandemic, these businesses would need to adapt in order to remain financially viable, support their customers and support their employees. The CCDA guide designed by SketchDeck aims to empower this adaptation, helping businesses remain compliant, inclusive spaces that are accessible to all.
At SketchDeck, it's important to assist in any way we can during these unprecedented times. Creating purposeful resources creates a domino effect, helping businesses, consumers, communities, and the state of California. ‍
Now is the time to band together and promote good. If you need to communicate a critical message now or in the future, SketchDeck would love to assist you with design. Start a project today!