As the world of graphic design continues to evolve, it's important for brands and designers to stay up to date with the latest trends. We rolled up all the new and continuing trends dominating the 2023 design landscape. Let's dive into the top graphic design trends of 2023.
3D Design and Artificial Realism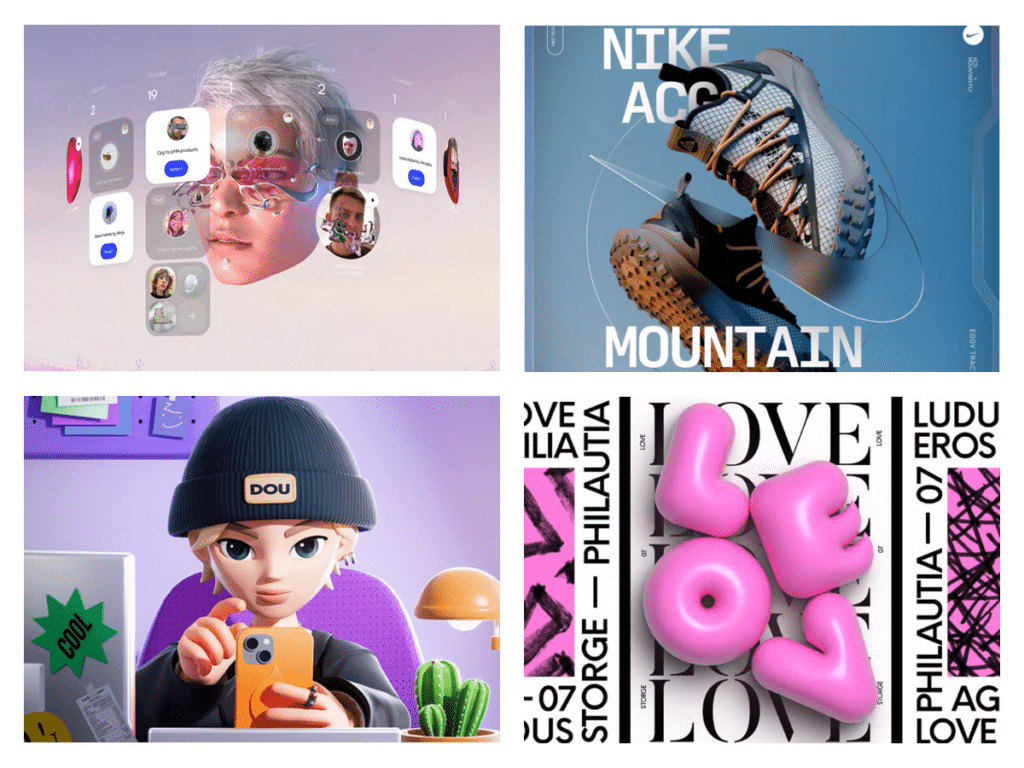 One of the most significant graphic design trends for 2023 is 3D design. Three-dimensional design has gained popularity over the past few years, and it's expected to continue to grow in 2023. Advances in technology made 3D design more accessible to designers and clients alike. It can add a level of depth and realism to designs that 2D design simply can't achieve.
The use of 3D design is not limited to just creating objects or product designs. It is also increasingly used in typography, animation, and branding. With its ability to create lifelike textures and materials, we view the 3D design trend as "artificial realism", and it's already become a staple in the graphic design industry.
Future Nostalgia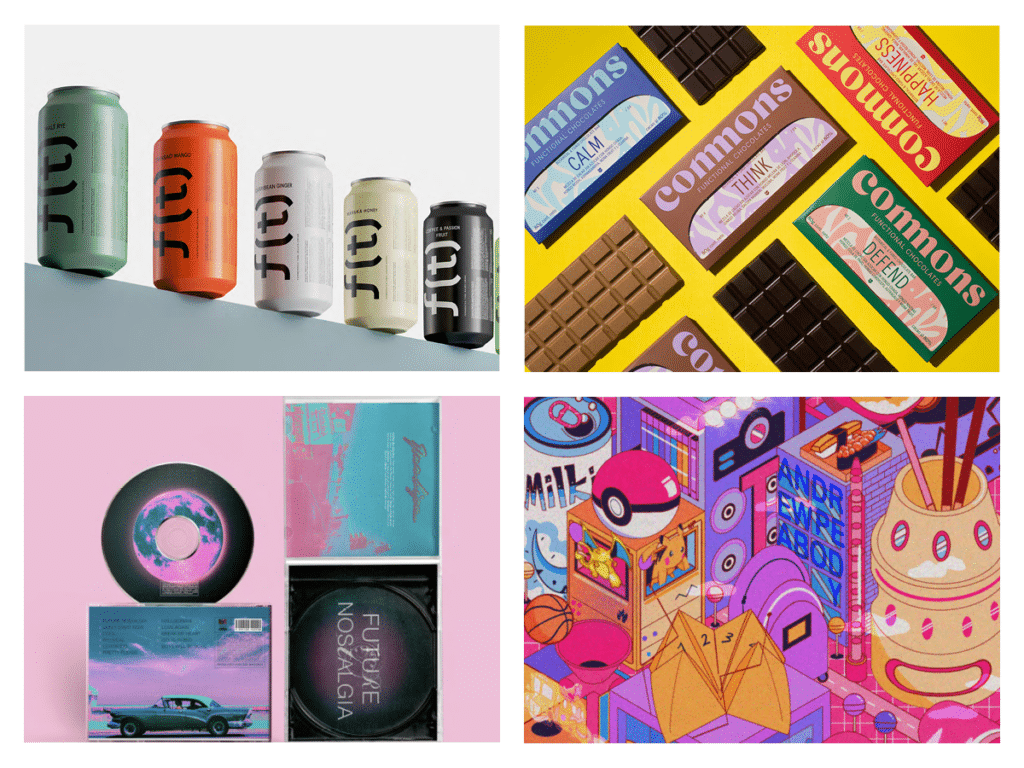 Across industries, the significance of nostalgia continues to captivate designers and consumers alike. The popularity of vintage and retro styles will continue in 2023, with a crucial twist. Designers combine inspiration from past eras with modern elements to marry nostalgia with the current moment, create dynamic tension, and captivate attention. For example, we see retro color palettes combined with modern typography to create stand out branding that is both relatable and intriguing in its newness.
Maximalism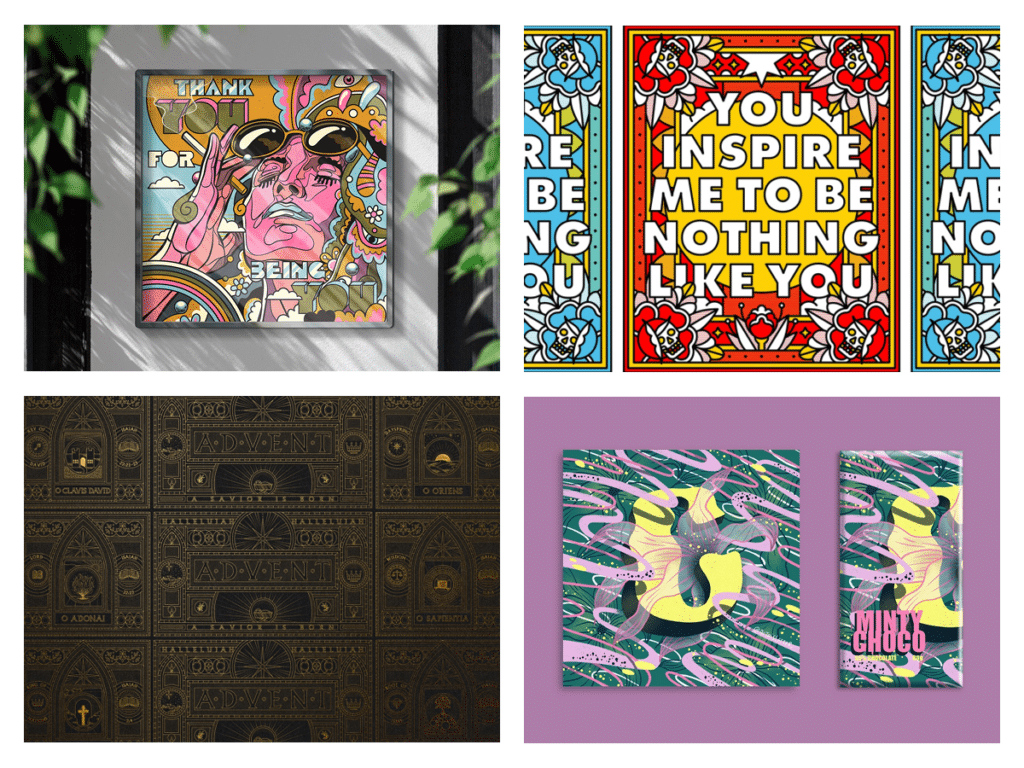 Maximalism is set to make a big impact in 2023. This trend is characterized by using bold colors, patterns, and textures to create designs that are visually overwhelming and certain to capture attention. We see the maximalism trend at work with the rise of bold gradients and typography and the incorporation of abstract art into graphic design.
Bold Colors and Gradients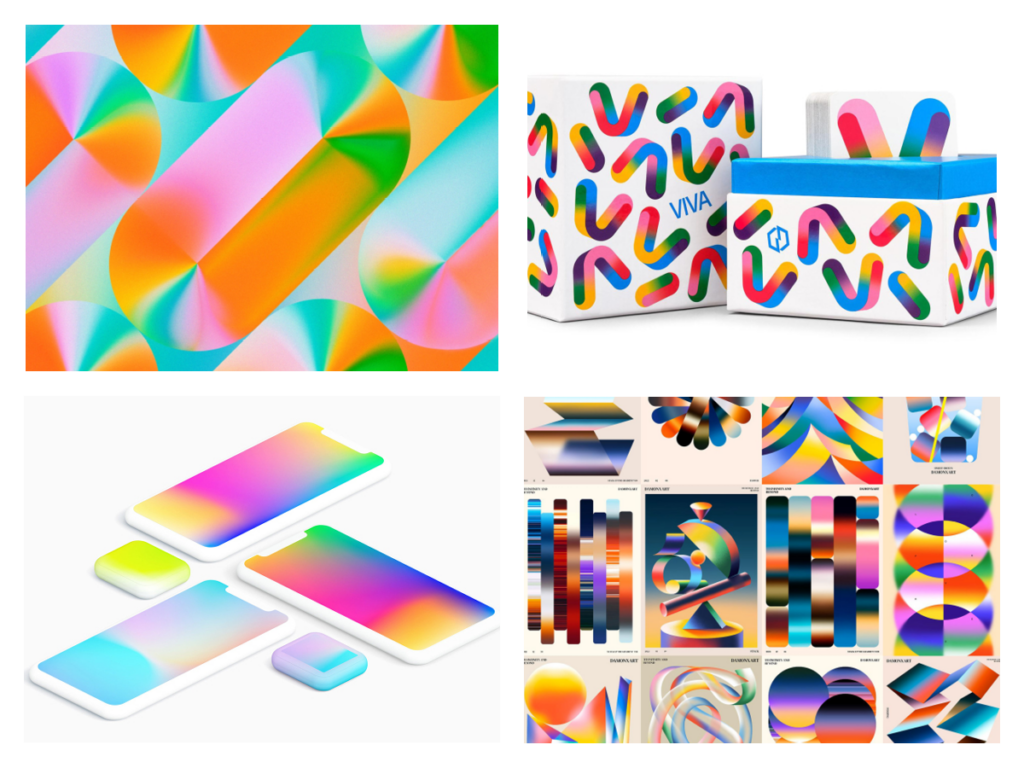 With the rise of maximalist graphic design, bold, bright colors and gradients gained a lot of popularity. These colors add a sense of energy and vibrancy to designs. They're perfect for catching the eye of viewers.
Gradients, in particular, lead the charge for bold color in 2023 designs. Designers use them to create depth and dimension in their designs. We expect to see gradients used in more unique and creative ways, such as in typography and illustration.
Bold Typography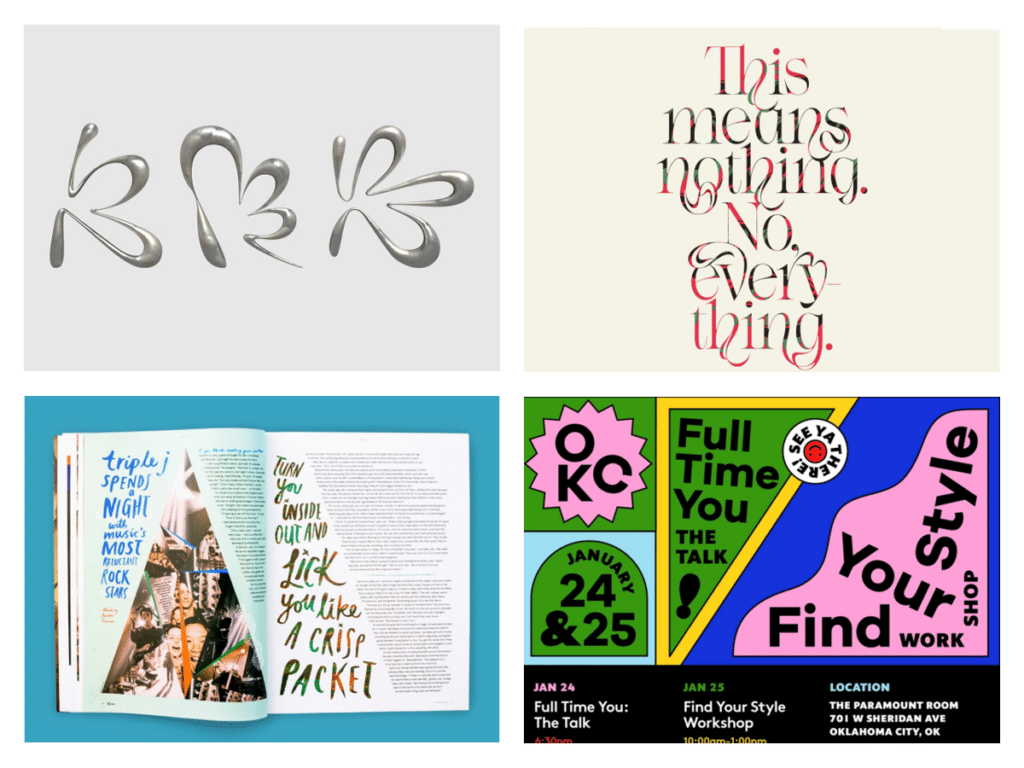 Typography is an essential element of graphic design, but it's gotten a bit boring over the past decade. Not anymore. 2023 is mixing up the typography game. We'll see designers pushing the boundaries of traditional typography with old, eye-catching fonts. In direct opposition to the overuse of Helvetica, designers now opt for unique and unconventional typography to create impact and stand out.
This trend will also use creative font layering, unexpected font pairings, and custom typography to better reflect a brand's personality. Bold typography is perfect for brands that want to make a statement and leave a lasting impression on their audience.
Abstract Art in Design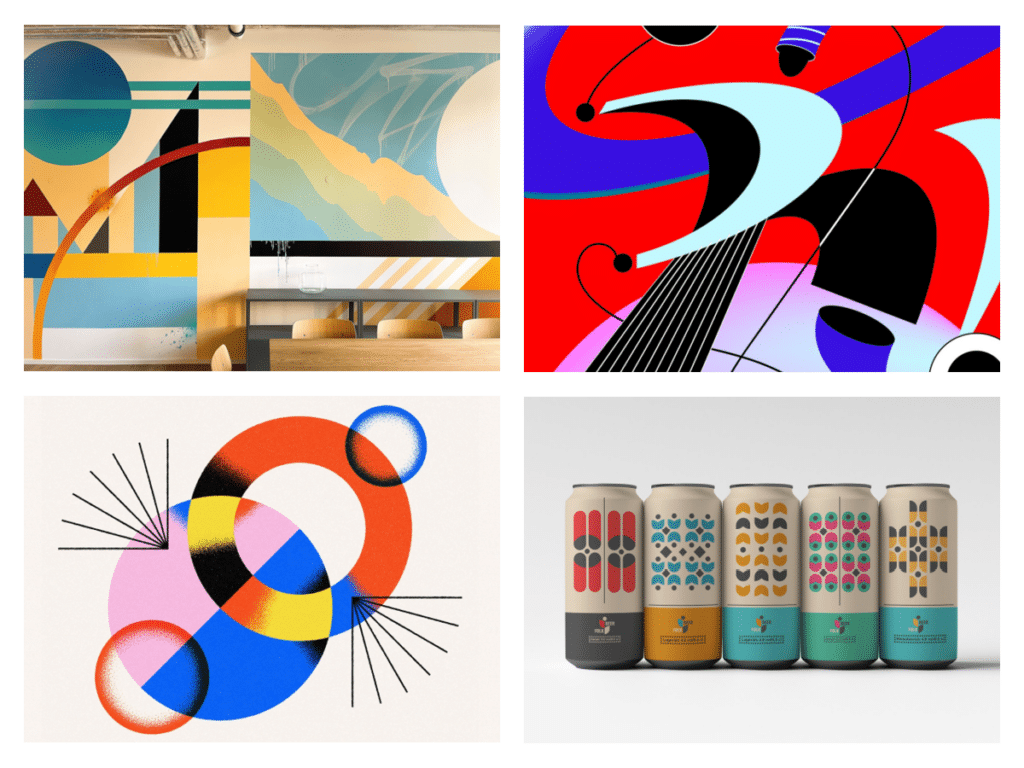 A popular trend in the art world for decades, abstract art will make a big impact in 2023 graphic design. This trend uses geometric shapes, bold colors, and organic lines to create unique and visually appealing designs.
You'll see abstract art popping up in branding, packaging, and print design. This trend is perfect for brands that want to create a unique visual identity that stands out from the competition, and designers looking to step outside of the traditional box.
Minimalism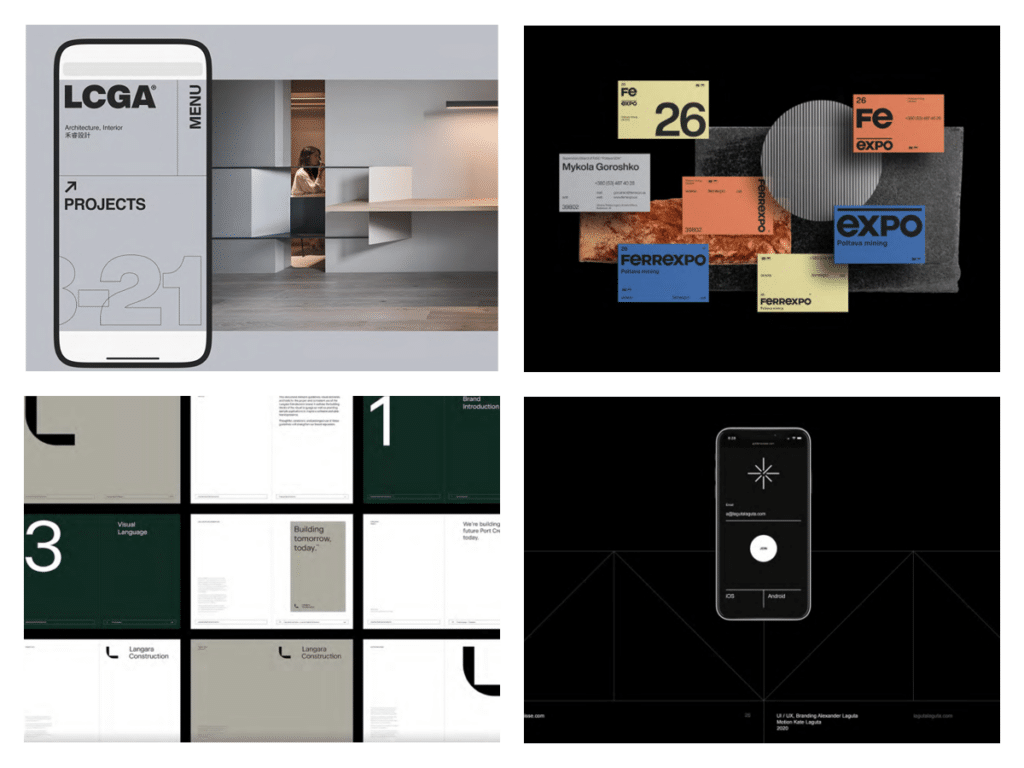 Just because maximalism is having a moment, doesn't mean designers are forgoing its counterpart. Minimalism is just as popular in 2023. Minimalist designs are characterized by clean lines, simple typography, and a focus on negative space.
This trend is perfect for brands that want to create a sense of sophistication or for designers who want to create sleek and modern designs. We'll see minimalist designs in all aspects of branding. Minimalism is a great option for brands looking to communicate super effectively with a clear, strong visual identity.
Monochromatic Design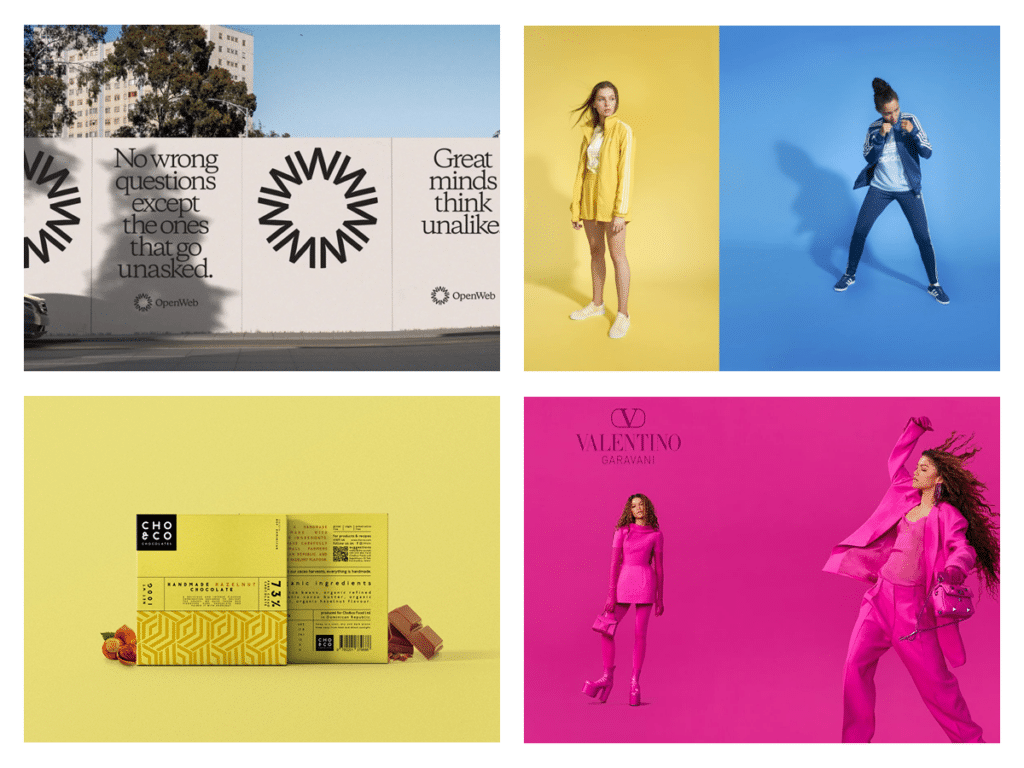 Thanks to the rise of minimalism, monochromatic design is having its moment. This trend is characterized by using a single color or hue to create a design that is visually appealing and cohesive.
Monochromatic designs lend themselves to the minimalist focus on simplicity and clean lines. This trend is perfect for brands that want to create a strong visual identity that is easily recognizable.
Authentic Photography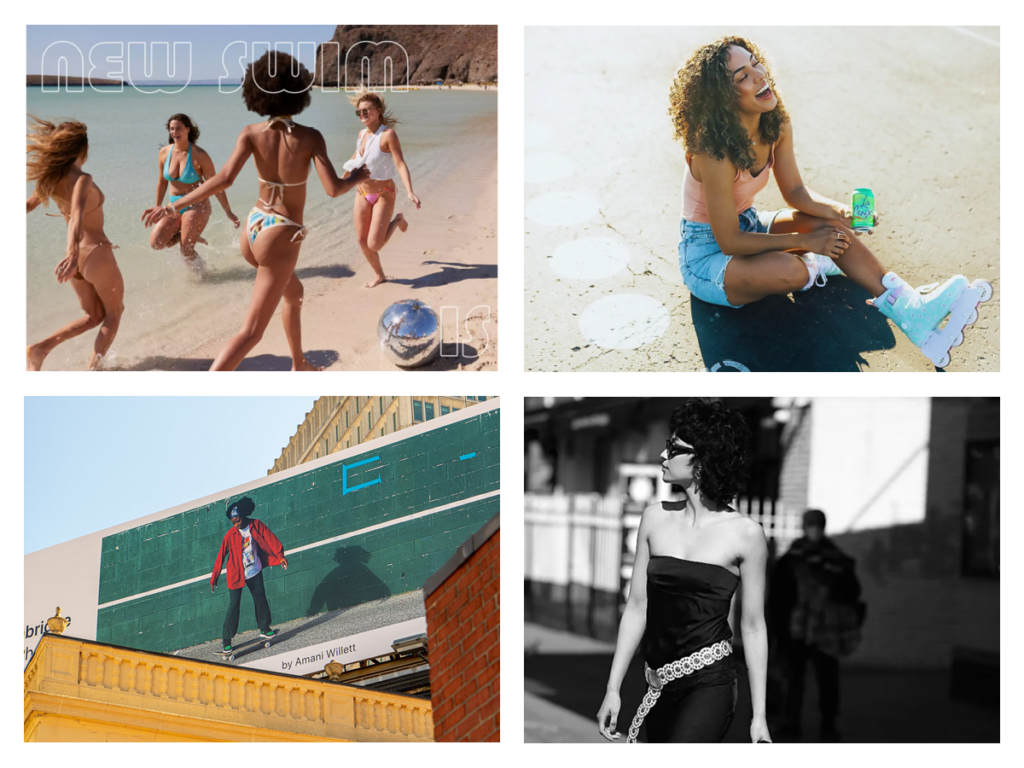 Authenticity is an essential aspect of modern branding that continues to gain popularity in 2023. This trend is characterized by the use of candid, unposed photographs that feel authentic and relatable. Thanks to social media, authentic photography came to dominate consumer consciousness. Its persistent appeal to consumers encourages brands to use real-life imagery that creates an emotional connection with their audience across channels and creative assets.
Interactive Design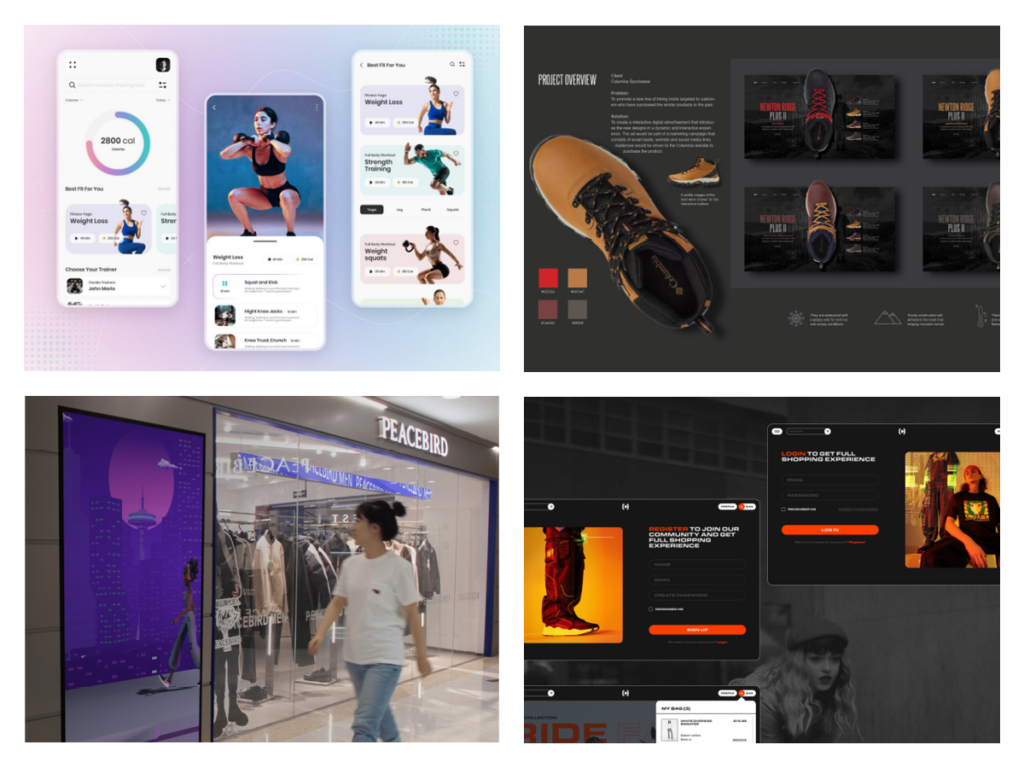 With the rise of digital media, interactive design is more possible and popular than ever. Interactive design engages the viewer and encourages them to interact with the design in some way. From interactive websites and apps to out-of-home advertisements, interactive design effectively creates an emotional connection with viewers, leading to increased engagement and conversions.
Activism and Design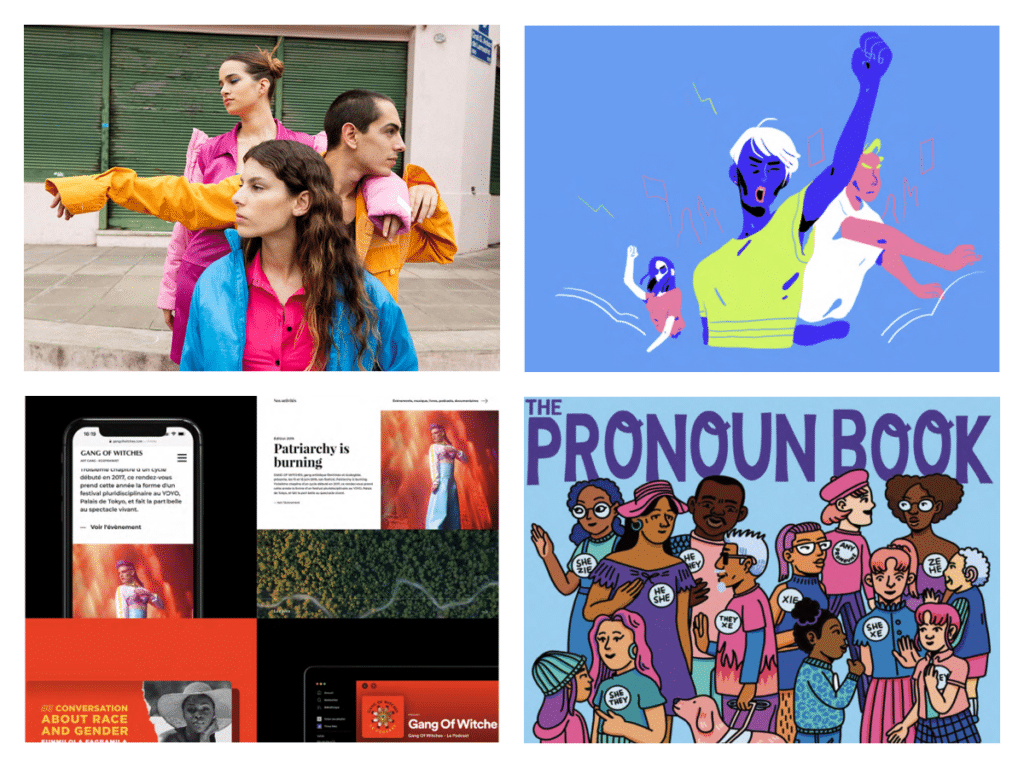 Consumers care more and more about the impact of the products they buy. Brands are responding by creating designs that reflect their commitment to causes consumers care about. From gender equality to sustainability to LGBTQIA+ rights, companies are incorporating activist values into their branding and overall design strategy.
How is your brand interacting with design trends?
The graphic design industry will continue to push boundaries in 2023. If you're developing a new brand, these trends are the perfect inspiration. If you have an existing brand, it might be time to incorporate certain trends and keep your brand cutting edge with a brand refresh. Whatever your design goals for 2023, SketchDeck's design experts can help you stay on-trend across all of your creative projects.