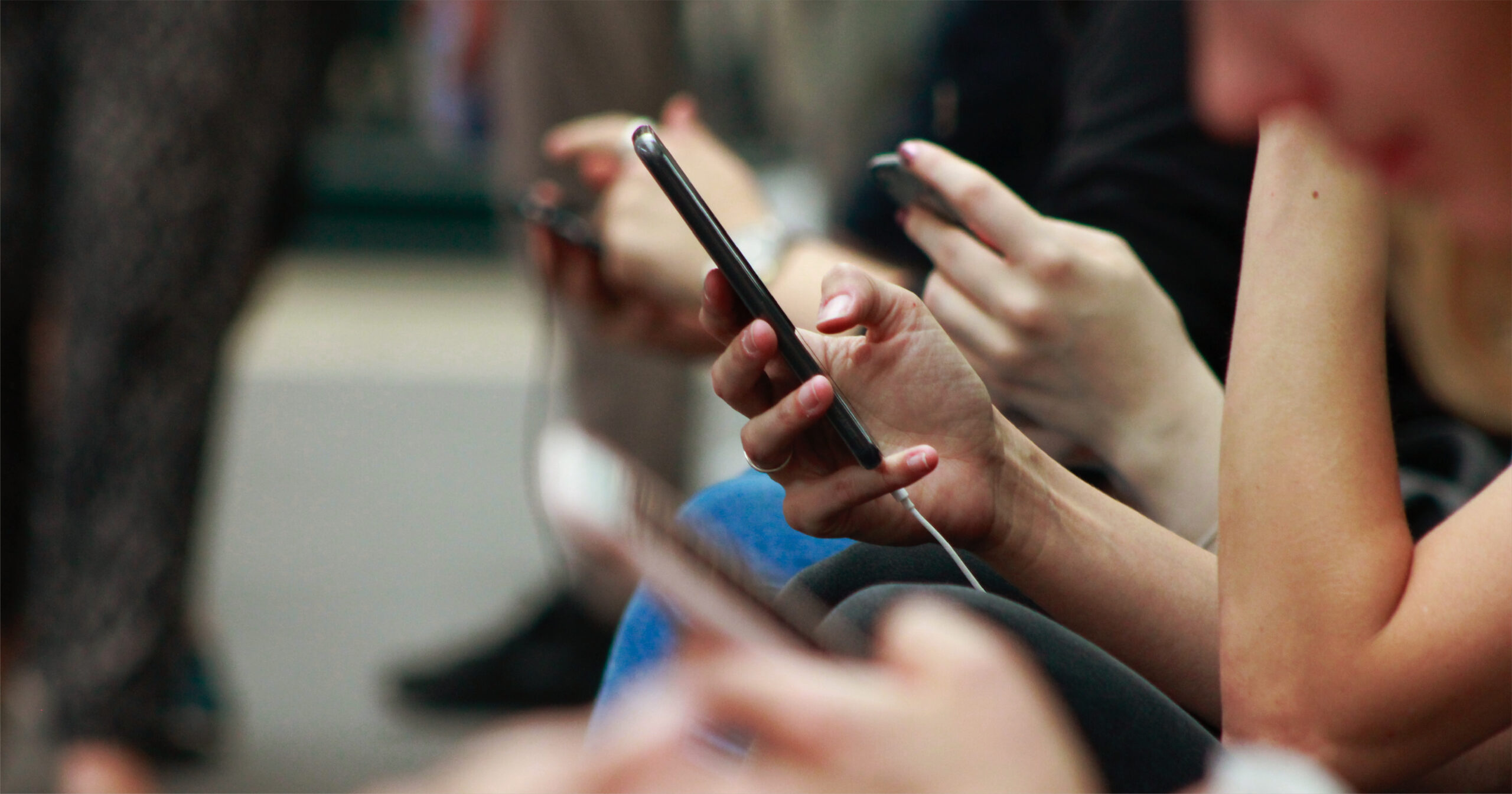 Beyond its central role in marketing strategy, social media is a central part of our lives. Therein lies its power. We've ranked the top B2B social media platforms and provided crucial, platform-specific tips so you can drive results with your B2B social media strategy.
For B2C brands, the benefits of social media are obvious. 60% of B2C companies report that social media increases their revenue and sales, compared to 46% of B2B companies. Even if the sales lift isn't guaranteed or instantaneous, social media remains a crucial part of B2B marketing.
Does Social Media Marketing work for B2B Brands?
B2C businesses look to social media to drive immediate traffic, brand awareness, and sales. B2B brands that succeed on social leverage top B2B social media platforms to build long-lasting relationships with prospects and customers. Every post might not lead to a sale that day, that week, or even that month. Instead, building a trusted social presence to attract and delight your B2B audience encourages customers to stay in touch and move down your sales funnel.
So, what's the key to successful, B2B social media marketing? It starts with choosing the right social media platforms. Here's our ranking of the top B2B social media platforms along with helpful tips for how to stand out on each platform.
Ranking the Top B2B Social Media Platforms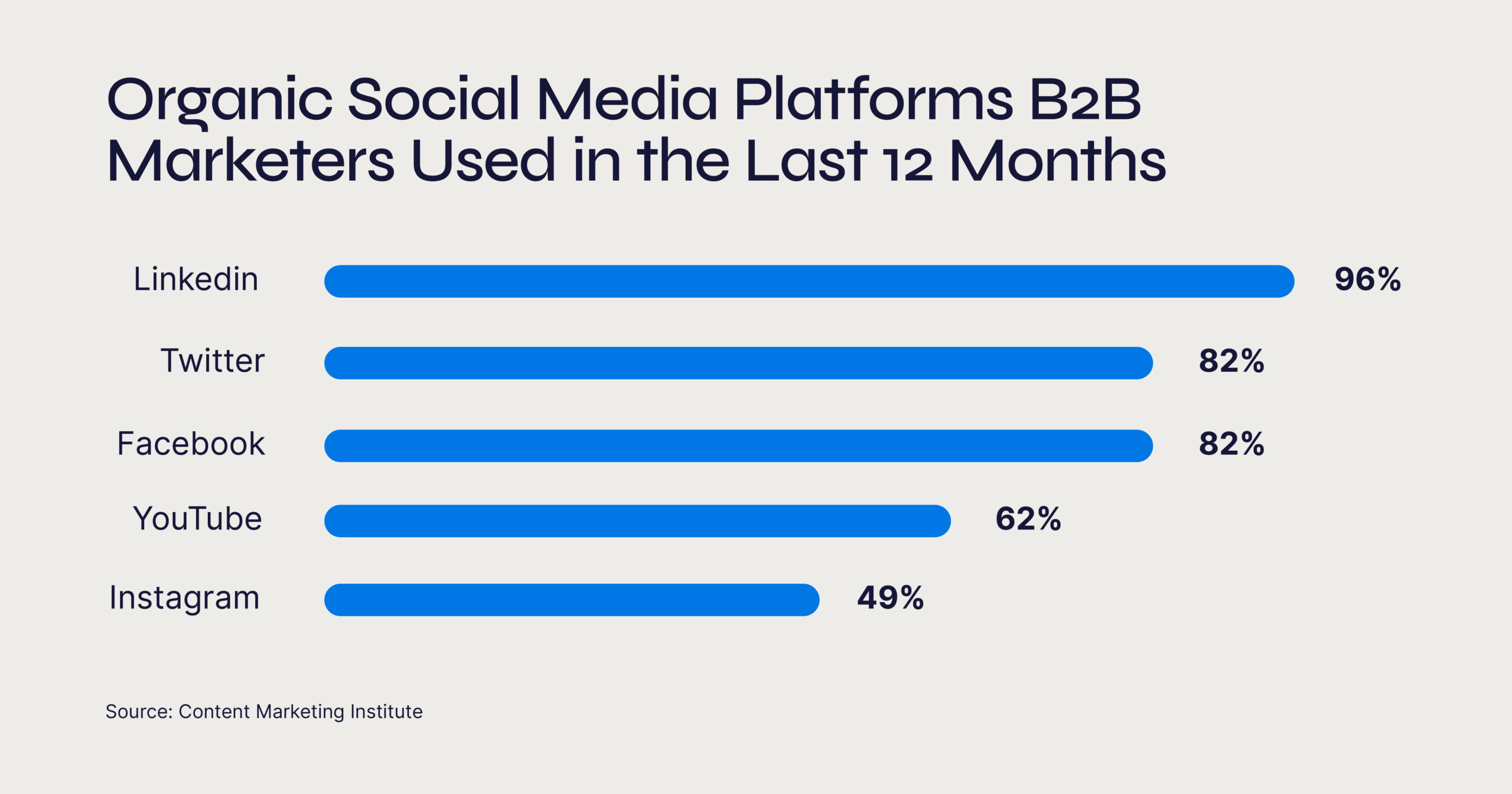 While it's possible to find and engage your audience on any social media platform, not all social platforms are created equal when it comes to B2B social media marketing. If your team has the bandwidth and budget to post the right content across platforms, more power to you. If you're dealing with limited bandwidth and budget, these rankings and social strategy tips will tell you where to post for maximum impact.
#1 Top B2B Social Media Platforms: LinkedIn
This one seems obvious, but 93% of B2B content marketers use LinkedIn for social media marketing. That's because 4 out of 5 LinkedIn users drive business decisions, making it the best audience of potential leads for B2B marketers.
LinkedIn Pros
You reach a business-specific audience.
LinkedIn might not be the largest social network, but its business focus secures its spot as the top B2B social media platform. Unlike Twitter and Facebook, LinkedIn is a designated platform for professionals and all things work related. LinkedIn users are in the right mindset to discover and engage with B2B brands.
You can engage customers at every stage of your sales funnel.
While LinkedIn is best for building brand awareness and generating leads, it can engage customers at the middle and bottom of the funnel as well. LinkedIn lets you tease excerpts of middle-of-the-funnel content (like this playbook we designed for ClearBit) and encourage downloads. It can also provide the proof needed for the final push to conversion through testimonials, case studies, and referrals.
You can boost your SEO.
LinkedIn has very high domain authority and a ton of user engagement. Google loves LinkedIn, which is why LinkedIn profiles and blog posts rank high in organic search. Optimizing your B2B brand's LinkedIn profile with keywords is an easy, valuable SEO win.
LinkedIn Cons
You will run into sales spam.
The biggest issue with LinkedIn for brands and users alike is the abundance of spam from sellers in inboxes and newsfeeds. Avoid accepting spam follow requests, only publish quality content, and keep your sales team from becoming part of the spam problem.
It takes a lot of resources to create successful LinkedIn content.
While LinkedIn is free to use, successfully growing your profile and audience requires a lot of bandwidth and budget. From navigating confusing posting rules to producing high-value content, LinkedIn requires a lot of marketer's time. The fact that it doesn't integrate well with most social posting and analytics tools adds to the time commitment.
It's hard to compete.
On one hand, LinkedIn's popularity among B2B marketers means it works. On the other hand, it means you've got a lot of competition to contend with.
Tips for Driving Results on LinkedIn
Avoid constant sales posts
Stay true to your brand and value proposition
Focus on posting high-value content that relates to your brand while answering your audience's questions
Stay on top of industry trends and hashtags
Always include photos or videos with your posts
Follow SEO best practices
Utilize your employee network to increase reach and engagement
#2 Top Social Media Platforms: Twitter
Even though Twitter is going through a tough time, it's still the second most popular social platform among B2B marketers. With 500 million tweets posted daily, Twitter offers an endless amount of conversations for B2B brands to engage with.
Twitter Pros
You reach a large B2B audience.
Twitter is not a business-specific social media platform. However, a quick search of any target job title will show there are plenty of valuable prospects.
You can easily monitor industry trends.
Twitter remains the easiest platform to stay on top of trending conversations across industries. Incorporating Twitter lets B2B brands build brand awareness while accessing powerful social listening potential.
You get real-time customer feedback.
More than any other platform, Twitter is where users go to ask for help and voice their concerns. Twitter can function as an extension of your customer service and customer success initiatives.
Twitter Cons
You have to stay within the character limit.
Any seasoned copywriter will tell you it's easier to write a 1,400 word blog post than it is to write a tight tagline. Twitter's 280 character limit will challenge your team to get straight to the point while keeping the point engaging.
The future of Twitter is uncertain.
Since Elon Musk bought Twitter in 2022, the platform has lost ad revenue and users. Major brands have paused their Twitter ad spending (including General Motors, Volkswagen and Apple), though they've retained their organic accounts. Twitter's uncertain future is worth considering when building your social strategy.
You might face negative feedback.
Any negative feedback your brand receives on the platform spreads as quickly, if not faster than, praise. Monitoring for negative mentions or comments and staying on top of any mistakes is essential.
Tips for Driving Results on Twitter
Avoid constant sales posts
Monitor relevant and competitor hashtags
Post valuable content that relates to relevant hashtags
Include videos and images in your posts
Engage with influencers in your industry
#3 Top B2B Social Media Platforms: Facebook
Facebook is still the most used social platform. While navigating such a wide audience for B2B leads seems challenging, there are valuable leads to be found.
Facebook Pros
You can reach engaged business decision makers.
According to Facebook, business decision makers spend 74% more time on Facebook than other users. Reaching these users on Facebook can build brand awareness among an audience with built-in purchase power.
Facebook Groups can boost awareness.
Beyond building out your business page, Facebook Groups are a valuable resource for B2B brands, allowing direct connection to potential leads and relevant conversations.
It's easy to repurpose content for Facebook.
If you're developing high-value content for LinkedIn, YouTube, Twitter or Instagram, that content can double as Facebook content. Automatic sharing between Facebook and Instagram adds to the convenience of repurposing content across platforms.
Facebook Cons
It's VERY hard to grow organic reach.
The proliferation of published ad content makes it harder than ever to organically grow the reach of your Facebook business page. If you run Facebook ads, this might not be an issue. If you're not investing in Facebook advertising, the platform may not offer significant results.
Tips for Driving Results on Facebook
Focus on video content
Experiment with Facebook Live and Facebook Watch
Engage in relevant Facebook Group conversations
Consider Facebook advertising
#4 Top B2B Social Media Platforms: YouTube
83% of marketers agree that video became more important over the last two years and YouTube is the most universal, video-watching platform to date. For B2B marketers looking to leverage the power of video, YouTube is the natural choice.
YouTube Pros
You can boost your SEO
Like LinkedIn, YouTube has a sky-high domain authority, making it more likely for your videos to rank on SERP. Producing videos with keyword-optimized titles and descriptions helps boost your SEO performance.
You can drive leads and site traffic.
While YouTube can help your Google search ranking, it's a powerful search tool in its own right. In fact, YouTube is the second largest search engine next to Google. Leveraging tags, keywords, and optimized video titles, B2B marketers can access a huge pool of potential leads and increase site traffic with YouTube alone.
YouTube videos are great for repurposing.
Every social media platform seems to prefer video. If you're producing video content for YouTube, it's easy to spread that content around your other social platforms.
YouTube Cons
Producing video content takes a LOT of time and resources
Video might be a massive marketing trend, but it comes at a high price. Most marketers produce video in house, which requires a huge amount of time, resources, and budget. From scripting to editing, video is a high-lift endeavor; make sure the benefits outweigh the costs.
Video content has mixed results
While video budgets continue to grow, the data has yet to confirm that people prefer video over other content. Given the investment video marketing requires, if the results aren't there, it might be time to place your efforts elsewhere.
Tips for Driving Results on YouTube
Focus on storytelling and educating your audience
Include actual people in your videos to humanize your B2B brand
Follow SEO best practices for descriptions and video titles
Include a CTA in your videos
Prioritize quality over quantity
#5 Top B2B Social Media Platforms: Instagram
For B2B brands, Instagram is more powerful than you think. B2B marketers experience the greatest engagement on Instagram and the platform is poised to become a central piece of B2B social marketing strategy in years to come.
Instagram Pros
You reach millennials with huge future potential.
Instagram is the fastest growing social media platform. More importantly, the majority of Instagram users are millennials who make up 40% of most companies' workforces. As these millennials age into decision making roles (if they haven't already), Instagram will move up the ranks of top B2B social media platforms.
You engage a mobile audience on a mobile-first platform
Mobile devices accounted for 56% of global web traffic in March 2022, a 54% increase from the previous year. Instagram is a mobile-first platform that fits the preferences of potential customers. 
You can showcase your brand's visual identity.
On Instagram, visuals reign supreme, making it the optimal platform to showcase products or work examples. The visual focus also lends itself nicely to showcasing the people behind your business, creating the perfect opportunity to humanize your brand.
Instagram Cons
There aren't many current, business decision makers on Instagram.
Investing in Instagram for your B2B social strategy is an investment in the future. Unfortunately, older demographics make up a small percentage of the current Instagram audience (i.e., current decision makers aren't likely to engage with your brand on the platform.
Buyer intent is low.
While Instagram shopping is on the rise, the platform is not commerce focused, especially not for B2B. While Instagram remains a valuable way to build brand awareness, it has yet to solidify itself as a real ROI driver for B2B brands.
Tips for Driving Results on Instagram
#6 Top B2B Social Media Platforms: TikTok
Major B2B brands like Shopify and SEMRush use TikTok to connect with their target audience and supercharge brand awareness. TikTok is popular with B2C brands, but will it ever hold value for B2B marketing? Maybe.
TikTok Pros
You can go viral more easily.
Of all the social media platforms, TikTok's algorithm increases the chance of your posts going viral. TikTok encourages users to copy each other, recycling the same sounds and video concepts until they become trends and their reach expands. If you can crack the code, TikTok is the perfect place for B2B brands to drive awareness.
You can make a deeper connection with your audience.
Informality combined with short-form videos creates the perfect environment for your audience to form a positive connection with your brand. TikTok can go a long way in humanizing your B2B brand, showcasing your products and services in a way customers relate to and enjoy.
TikTok videos are great for repurposing.
If you've got winning B2B TikTok content, you can bet that content will perform well on other platforms, particularly Instagram.
TikTok Cons
It's VERY hard to launch successfully.
The TikTok algorithm is a friend to seasoned creators, but for B2B marketers just starting out, your account can fall through the cracks. Your TikTok videos need to make it to users "For You" pages immediately. If your videos don't connect with a specific audience immediately, the algorithm deems your account irrelevant and recovery is unlikely.
TikTok is the highest lift platform.
Once again, video takes a lot of work and nothing is harder than creating successful B2B TikTok videos. You need to educate and entertain, capitalize on fast-moving platform trends, and be super consistent. It's not for the faint of heart or any marketer struggling with bandwidth.
TikTok is too focused on entertainment.
While you can view TikTok's informality as an asset, it can also be a B2B brand's downfall. People flock to TikTok to be entertained. On top of everything else on B2B marketers' to-do lists, "be funny" might be a bridge too far.
You can't repurpose other content for TikTok.
TikTok content works great on other social platforms, but the content you produce for other platforms won't work on TikTok. If your B2B brand can't commit to producing content exclusively for TikTok, it's not the social media platform for you.
Tips for Driving Results on TikTok
Keep it fun and entertaining
Educate about your product, services, and niche
Leverage trending sounds and video concepts
Over-prepare for your TikTok launch and track initial metrics religiously
How Can I Produce Content for Top B2B Social Media Platforms?
You might be wondering how anyone manages to produce enough of the right content for one platform, let alone six. They don't do it alone.
Maybe you're a B2B marketer blessed with a huge team and all the design and video support you need to succeed on social media. Or maybe you're like most B2B marketers, struggling with bandwidth but hungry to stay relevant in the channels that matter.
If you identify as the latter, it might be time to consider hiring external content and design solutions, like SketchDeck, to fill in the gaps. SketchDeck can handle all the design and video production for your social posts, so you can focus on everything else.
Wherever you are in your B2B social media journey, remember you don't need to choose all the platforms, just the ones that work for you. Also, quality content wins over quantity every time. Best of luck and happy posting!