Whether you are a seasoned content marketer or just starting out, targeted outreach campaigns should be part of your toolbox. Cold outreach should be one element of your sales and marketing strategy.
In this post, I want to share some of the insights that we've gained from providing a suite of outreach tools used by tens of thousands of sales and marketing professionals. The guide will share some variations on the classic email outreach templates you have come across before– those where you share your product offering and hope for a response.
I want to share strategies, ones that may make you look at outreach a little differently. Hopefully, you can apply these insights to help you run more effective SEO link building campaigns, network with influencers, or get pitch decks in front of potential investors. Let's dive in.
The standard outreach campaign
Most cold outreach campaigns start with the person running the campaign considering the outcome they want to achieve. They then go with the most direct approach to achieve their goal.
A "what's in it for me" outreach campaign looks something like this:
Create a list of suitable prospects for your outreach campaign
Write your "do you want to buy product X" email copy
Start sending out those emails to your target list
Below is an example of what your email copy might look like.
‍
"Hi NAME,
I hope you're having a good day. We're a marketing agency based in Illinois. We offer web design services to local plumbers. Are you planning to redevelop your website in the next six months? If so, I'd love to schedule a conversation with you to share a bit about what we do and how we can help you get more clients.
Speak Soon,
Mike the Marketer"
‍
Around 80% of the outreach campaigns that we see take a direct approach to sales. These campaigns will generate leads and sales.
If you're targeting is precise and you send emails to enough prospects you will come across people who are thinking about purchasing the product or service you offer. The percentage of people who are in buying mode will be relatively small, often 3% or less.
Through a good sales sequence, you can convert a percentage of those people in buying mode into customers. In the remainder of this guide, I'll share strategies that you can apply to help increase the percentage of people interested in your products or services.
Invest in your customers then make a profit
Amazon is famous for placing an empty chair in each meeting–representing its policy of putting the customer first. A chair in a meeting might feel a bit like a marketing gimmick, and perhaps it is.
However, there is a lot you can learn from Amazon's customer-first policies. Consider some of their customer acquisition strategies. You might not be aware that:
When Amazon first started selling ebooks, every eBook they sold cost them money (approximately $5 per book)
Two-day free shipping for Amazon Prime customers was initially a loss-generating service
Amazon charges $119 for Amazon Prime a year per customer, but the cost of providing the service is approximately $250 per customer
It might seem strange that Amazon is/was willing to offer these services to customers when each initiative was a financial drain. In the short term, these policies might even feel rather daft. However, I promise they're not.
These initiatives make sense when you consider that:
Amazon is now the market leader in eBooks and eBook readers (both the Kindle and Kindle Fire sold out within two months of launch)
Shorter shipping times increased the number of Prime customers, forcing competitors to improve their shipping times to compete
While Prime might operate at a loss, Amazon Prime customers spend five times as much money with Amazon as regular customers
You can see that the company's strategy is underpinned by the recognition that it's worth taking a short-term financial loss to acquire a customer if you get to keep their business. This is an important business lesson.
If you're selling a product or service to customers, analyze your sales and the Lifetime Value of a customer. Then, consider if it makes financial sense to offer a product or service at a loss.
Providing a product or service at loss as part of a customer acquisition strategy is an approach will make sense for a lot of companies. My friend Enstine Muki offers SEO consulting services, and applied this outreach strategy to his business:
‍
"My customers generally stay with me for more than a year. In the first three months of a contract, 75% of customers will double their Average Order Value. I run cold outreach programs where I offer one month of consulting services at a loss. I now generate 3x as many customers from an outreach campaign."
‍
Your pitch can be really direct. Below is an example of the kind of copy you might use for such a campaign.
‍
"Hi NAME,
I work for a marketing agency that offers SEO services. I noticed a significant dip in your traffic in the last 60 days and I think I've identified the problem. We want to work with your business.
I think there's plenty of opportunity to reverse this negative trend and get you even more customers. To fix your current problem, I want to offer you the following:
A free report on your website with fixes
2 month of SEO support for 85% less than we usually charge
If we can't get you the results, we promise you don't pay
We want to work with you and think there's plenty of opportunity for a long-term partnership. To build up that trust, we want to help you fix your current problems. I'd love to get on a call with you this week to share the report we put together. Are you available either Wednesday or Thursday for a short 15 minute call? Look forward to hearing from you,
Sam 'SEO' Smith"
‍
As you can see, running a customer acquisition strategy at a loss might be something you'd like to explore. Hopefully this example provides a nice case study of if this strategy is suitable for your business and how you could run such a campaign.
The hero campaign
Many cold outreach campaigns will only succeed if you can get a busy, sometimes famous, person to respond to your message. These people can receive 100+ emails a day–making this a difficult business proposition.
A hero campaign is one way to get the attention of such people.
The basis of a hero campaign is simple: to get the attention of your prospect, you send an email that makes a person feel good about themselves. Everyone loves praise and to hear that their work has made a difference to someone–influencers, business owners, and content managers are no different.
To run a hero campaign, you'll need:
Name of the person, which you can get with an email finder
Your approach (Examples include: feedback on content that they produced, how their insights have helped you grow your business, asking for insights on a topic they are passionate about)
A good approach is to introduce yourself as someone who aspires to be at the same level as them–following this up with your feedback. A genuine compliment and asking for guidance increases the chance of getting a positive result.
A hero campaign can work on anyone. A friend of mine used this approach to start a conversation with Neil Patel, which resulted in more than one business opportunity.
Please note that you can't run a hero campaign at scale, as each email you send needs to be personalized. Use the recipient's name and be specific in your praise–something generic like "I love your work" won't cut it and will feel disingenuous. Take this email below as an example: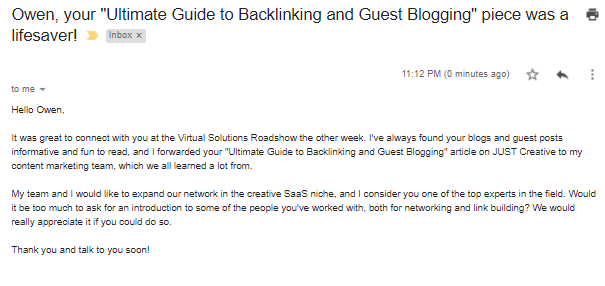 The example above is an email I received. From the text, it's obvious that they actually read my content and took the time to craft the email. In other words, they did their research and their kind words about my work felt genuine as opposed to the empty flattery.
Try to strike this balance if you utilize this approach as part of an outreach campaign.
Leverage your best content in a pitch
Most people recognize the link between content marketing and sales. There's even a good chance that your business has a blog where you share content to your audience.
In an ideal world, people come to the blog, consume the information, and a portion of them turn into customers. It's great when that happens.
But of course, there's no need to wait for your ideal audience to happen to come across your content. Instead, you can use targeted outreach to bring your ideal customers to your blog, and those interactions can help turn visitors into customers.
My friend Nico, from Launch Space, shares his experience running such a campaign.
"I help companies land guest posts on authoritative sites. One of the first outreach campaigns I ran was based around my 'How to Ethically Scale to 50+ Guest Posts a Month' article. In this guide, I shared everything I learned about guest posting.
I ran an outreach campaign targeting agencies. The goal of my outreach campaign was to show my expertise in my field. I included a link to my service offering in my email signature. I sent 100 emails, which generated 7 enquiries and 4 sales."
Below is a screenshot of the email copy he used.

A nice twist on this campaign is to promote guest post content you or your team have produced. For example, if you wrote an insightful article for a publication like Forbes, the publication's renown can help you establish your credibility as an authority.
We've found that content campaigns not only drive traffic to a site but can generate leads and sales. In other words, anticipate the problems your audience members might be having and then offer them information to help solve those problems.
Here's a bonus tip to help you in all your email outreach campaigns: use email tracking to monitor when your messages have been opened, read, and replied to. This will ensure you never miss an opportunity for a timely follow-up.
Propose a collaboration
As you've probably noticed, one of the best ways to establish a connection through cold outreach is to provide value before you make a request. The final approach for connecting with a stranger is to suggest a low-risk, project-based partnership.
When I do project-based outreach, I send a short email containing an overview of the project I'd like to do and its expected output and benefits. I also include a couple of case studies or white papers about projects I've worked on previously. These case studies provide social proof and show the prospect that I am capable of delivering on my promises.
I also receive a lot of emails along these lines, some of higher quality than others. Here is a sample collaboration proposal I received recently: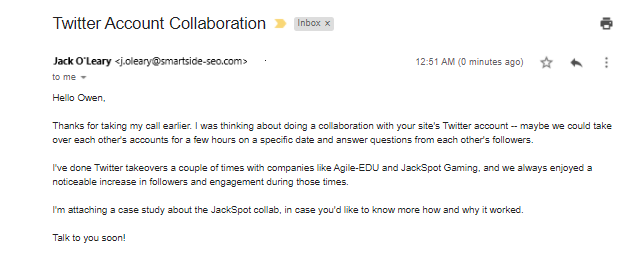 This email was short, informative, and intriguing, and the case study convinced me that I was talking with a person who knew their stuff. We haven't decided on the specific date of the takeover yet, but it's something I'm looking forward to doing.
Generating leads and sales through outreach campaigns
Outreach campaigns are still one of the best ways to generate leads and sales. In this article, I shared some approaches that people and companies take that have proved successful. Because while a basic outreach campaign might work, there are even more great opportunities out there if you're willing to experiment.
The real-life examples I've shown you illustrate the different types of outreach campaigns in action, and I hope they will provide you with some inspiration.