Questions to ask before building a website
Before you start building your website, you may want to thing about these questions.
How complex is your website? Do you need a multi-page site, or a simple, one-to-two pager?
Do you want a unique design or would you prefer to use a pre-designed, theme template?
Do you want to make your own site updates, have updates done automatically, or have a professional update your site?
Do you need any kind of special site functionality such as: onsite animation, filtering, search, etc.?
Will you be including a blog right away, in a year, or not at all? How will you help your site rank on search engines?
To get a better idea of which approach may be best for your business, let's take a closer look at some key features of each solution and how they compare to each other.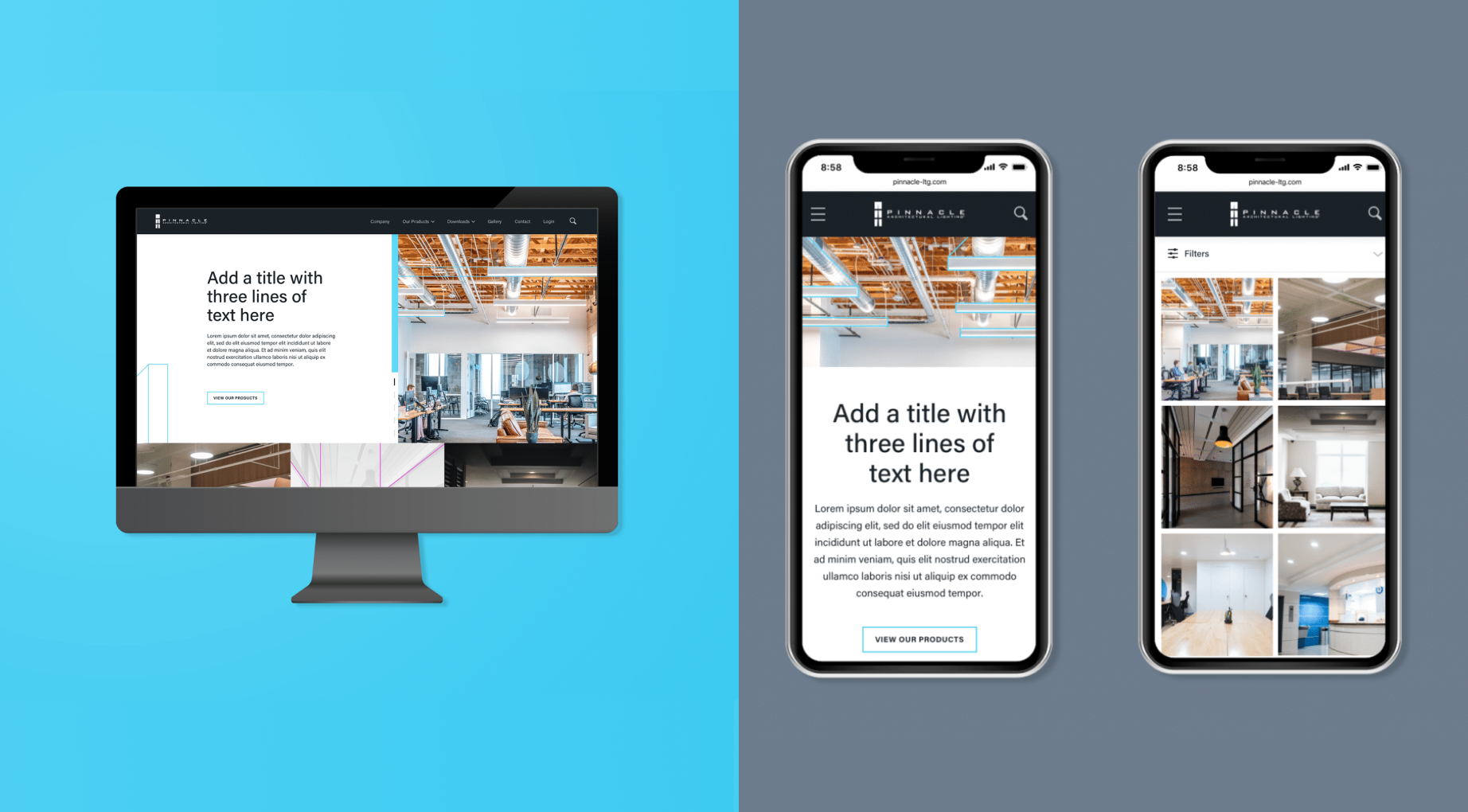 "With over 43% of sites using it, WordPress is the most popular CMS in the world. New businesses, small companies, and even companies like CNN and Disney use it every day. The sky's the limit depending on what you want to do."
Joseph Roberts,
WordPress expert and SketchDeck lead developer
WordPress is an open-source, content management system (CMS) used worldwide. With over 4,000 WordPress themes (website design templates) and almost 59,000 plug-ins (software for website features). Many businesses use WordPress because it allows them to quickly and easily build web pages and add functionality. WordPress began as a blogging platform, but has since evolved into a site builder application that provides any function you need when building a website.
But how does WordPress stack up against Hand-Coding and Webflow?
Unlike Hand-Coding, WordPress requires no real coding knowledge. While Webflow is a visual editing tool that can create any design imaginable, WordPress designs are restricted to the templates used. However, these templates can be customized with the help of a developer.
Developers can tailor WordPress templates for any particular business website need (our SketchDeck developers do it all the time). By using Elementor, the page-builder plug-in, developers can customize functionality for blogs, e-commerce platforms, landing pages, widgets, live chats, and more. They can also create links to sites like WhatsApp, Waze, Google Calendar and others. With some plug-in knowledge, site owners can make simple site changes, like switching out text color or images, with drag-and-drop editing.
WordPress plug-ins are regularly updated, so it's important to ensure you're working with the most current version and that it's installed correctly. At SketchDeck, we recommend a monthly maintenance check-in with your developer (unlike Webflow, which runs on its own proprietary server and is updated automatically). You also need to choose the right server to host your WordPress site. For optimal site functionality, you need a robust server, especially if you expect a large amount of site traffic on a regular basis.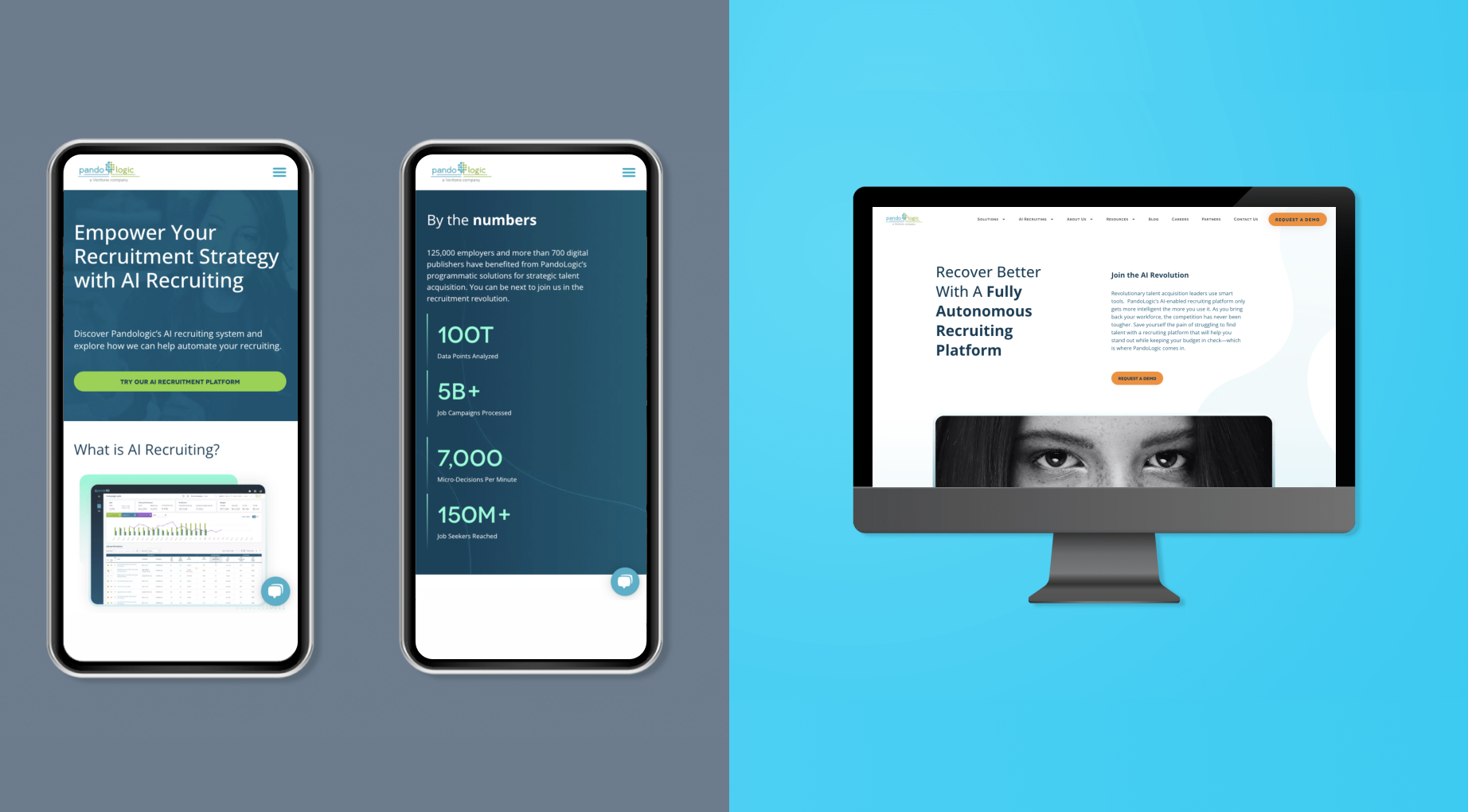 "This is a great site development and hosting tool that eliminates cookie-cutter design. It provides set-it-and-forget-it maintenance, and it's easy for site owners to make changes whenever they want. Whatever you can dream, you can design or build in Webflow."
Jon Reese,
SketchDeck Webflow expert
Webflow is a proprietary CMS solution with powerful design capabilities and an exclusive hosting service. Unlike WordPress, Webflow offers web designers total design freedom. It works best for small companies that want to stand out from their competition by telling a unique visual story online. Many creative agencies use Webflow to create unique landing pages, animations, and marketing sites.
So, what are the benefits of Webflow and how does it match up to WordPress and Hand-Coding?
It has good, clean code quality and it's very easy to get from a design to a well-functioning website. Due to WordPress' extensive need for plug-ins, your website code can become cluttered. With Webflow, you don't have to sort through layers of applications between creating the pages and seeing them online. While Hand-Coding can also provide design freedom and yield unique site designs, you can get the same result faster and more easily with Webflow.
The Webflow CMS tool has a steeper learning curve than WordPress. However, once you understand the Webflow CMS tool, you can make changes easily. On the bright side, Webflow doesn't provide tiered access to site changes. In other words, anyone with knowledge of, and access to, the Webflow CMS can make changes to anything on the site. However, adding any new site functionality would still require the help of a developer.
Finally, Webflow's up-front design fees and hosting costs are pricier than WordPress. Still, considering the all-in-one solution requires no maintenance, integrates system updates automatically, and boasts no security hassles, it could very well be worth the cost when it comes to building your website.
"In some ways using Hand-Coding provides the ultimate freedom to use whatever website tools you want and the flexibility to control what you want to see."
Luam Fessehazion,
SketchDeck full-stack developer
Hand-Coding, or building a website from scratch, is great for a site that is limited in size (one or two pages), requires no updates, has no blog, and doesn't need much storage. You can usually build this kind of static site quickly and, because it's smaller, it yields faster page-loading speeds than site pages built in WordPress or Webflow.
Typically, hand-coded sites are less expensive than those built in WordPress or Webflow. They are great for weddings, personal portfolios, landing pages, or small businesses offering fixed, ongoing services (like home repairs, house cleaning, lawn care, accounting services, palm reading, etc.).
Because these sites demand few if any updates — unlike sites built in WordPress or Webflow — maintenance costs are very low. However, when a site change is desired — such as the addition of a blog — you will need a developer to step in.
Hand-Coding can also come in handy if you need something special added to a site built with WordPress or Webflow. For example, a SketchDeck developer can use Hand-Coding to add in any tool to your WordPress or Webflow site. Let's say you want an online calculator on your website so customers can get an easy estimate, but your WordPress or Webflow site doesn't support that tool. A SketchDeck developer can build the online calculator from scratch with Hand-Coding and embed it in your site. Problem solved!
WordPress vs. Webflow vs. Hand-Coding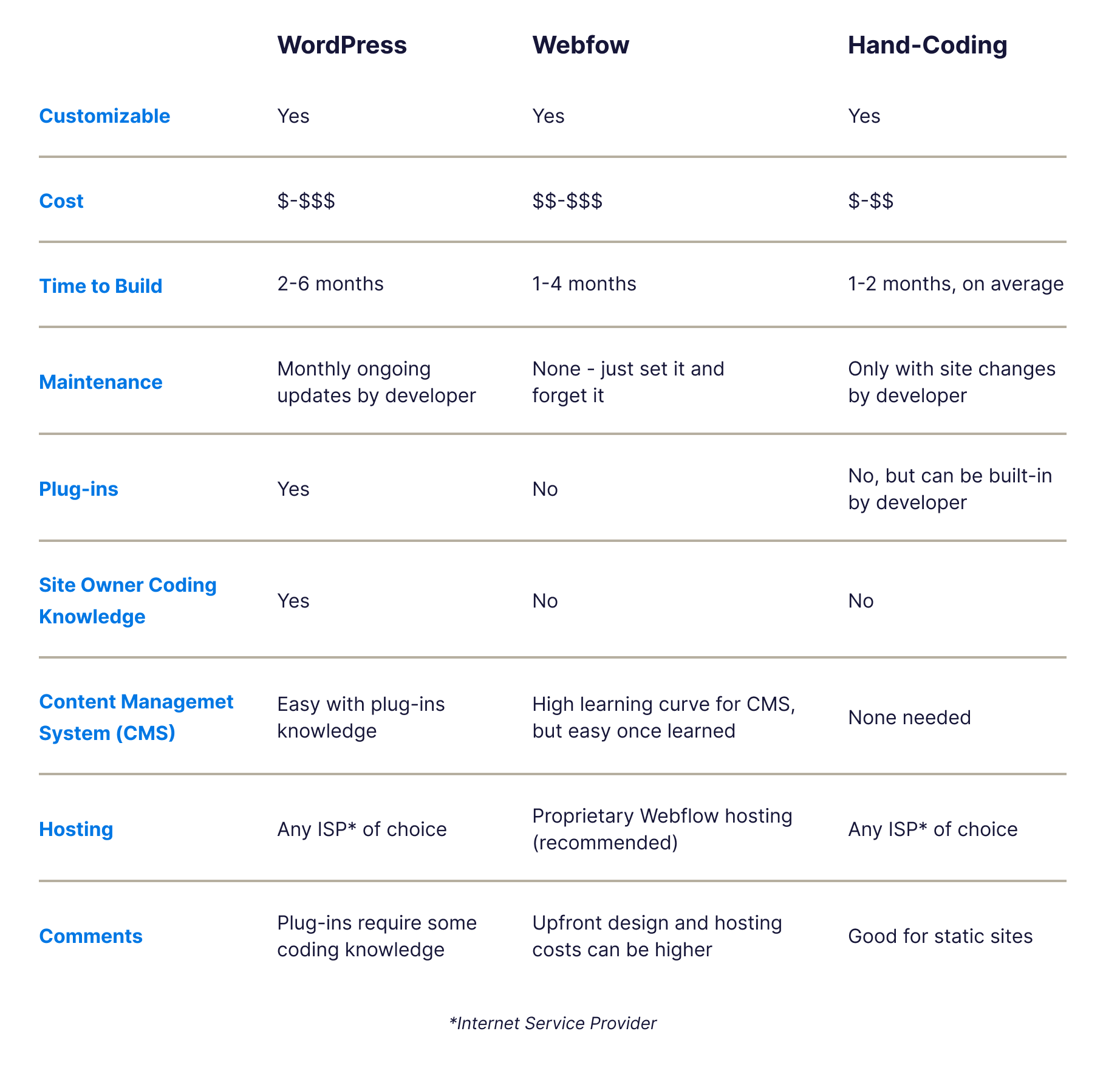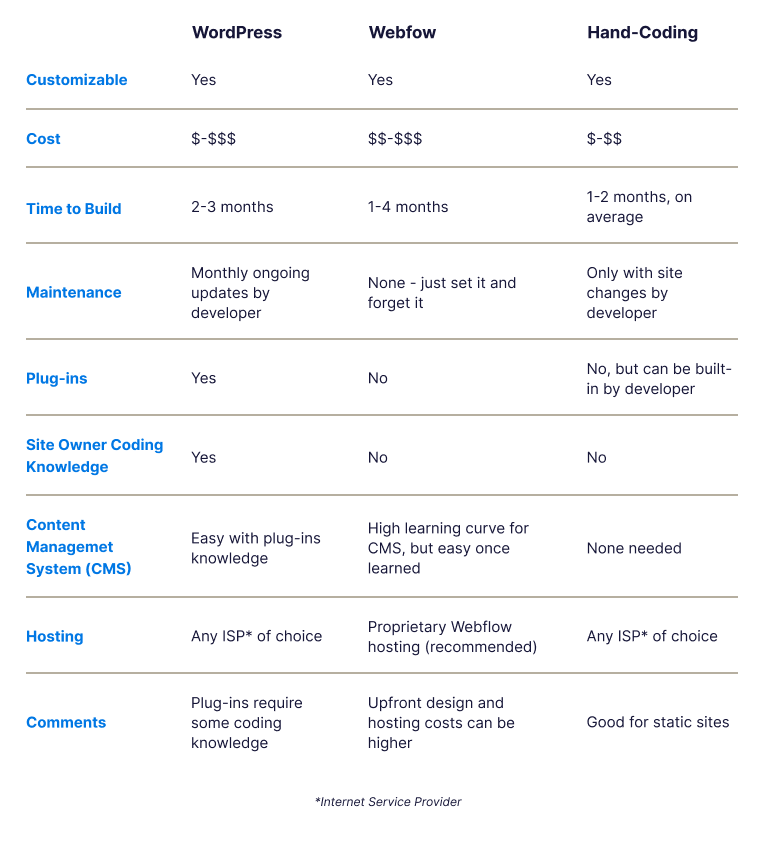 Choose the Web Solution That's Best for Your Business Site!
When it comes to deciding between WordPress, Webflow, and Hand-Coding, it's all about your unique website goals. If you're okay with choosing a template and sticking to it, WordPress is a great option. If you want a creative, custom site done in record time, choose Webflow all the way. If you're looking to create a simple site or landing page on a budget, Hand-Coding is the way to go.
Just remember, developers can help you get the most out of web design and development regardless of the site builder you choose. Still not sure which web development solution is best for you? SketchDeck's digital solutions can help you to choose the tool(s) to best showcase your business. Our team of top-tier developers has the knowledge to help guide your decisions, as well as the expertise to design and build your website quickly, easily, and at an affordable price.
Grow your online influence and help your business website stand out with SketchDeck.