If you've experienced the challenge of developing and/or delivering an important presentation to a good-sized audience, there's a chance you hoped it would go as well as a TED Talk—those incredibly well regarded presentations first popularized by the TED Foundation in the mid 2000s. TED Talks are often considered the "Everest" of engaging, informative presentations. Killing it on the TED stage is significant.
So with the intention of acting as your presentation sherpa, this article offers 8 steps to give you the best chance of building and delivering a TED Talk-worthy presentation.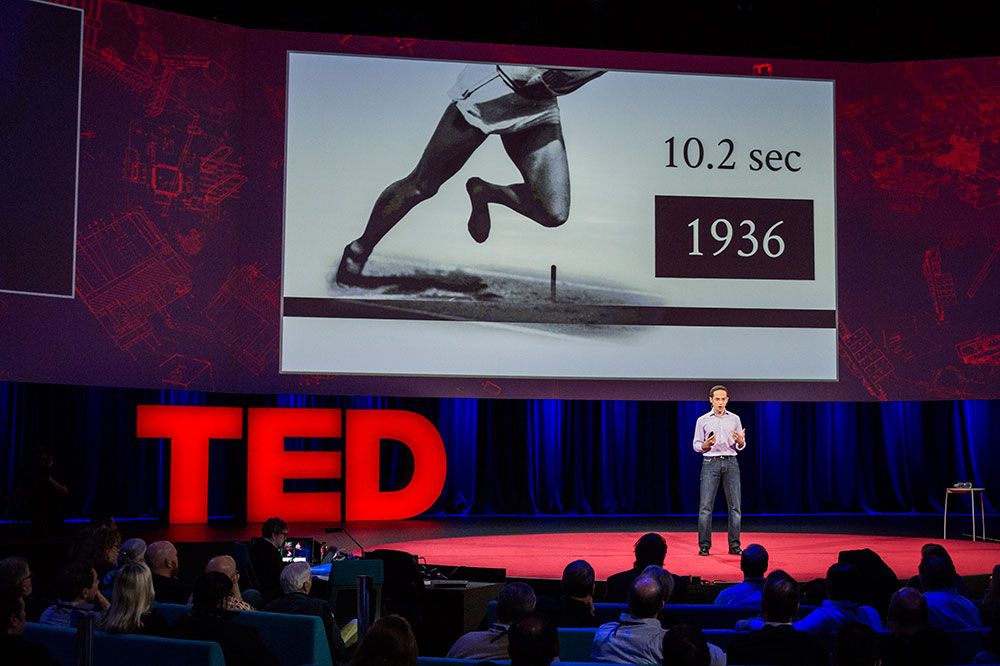 TED Talks. People listen. ‍
TED is a nonprofit with a mission to "spread ideas." It began as a one-off conference (on technology, entertainment and design) in 1984—eventually evolving to a point where it launched an audio and podcast series called TED Talks.
From the history page on their site:
"The first six TED Talks were posted online on June 27, 2006. By September, they had reached more than one million views. TED Talks proved so popular that in 2007, the TED website was relaunched around them, giving a global audience free access to some of the world's greatest thinkers, leaders and teachers."
As a result of their success and popularity, TED Talks have inspired many other presentation-centric activities and events—such as conference keynotes and investor fundraising "demo days."
What makes a TED Talk?
TED presenters arrive from all walks of life, and although their TED Talks span a wide range of topics, they all share a few characteristics:
18 minutes or less. This is a TED rule, initiated by their founder, Chris Anderson, and also backed by scientific research. The basic premise is 18 minutes is long enough to do the job, but short enough to avoid having your audience begin to lose interest.
A big idea, worth sharing. Again, straight from TED. But expecting to deliver a compelling presentation that relays several meaty ideas in under 20 minutes is wishful thinking. By focusing on a single, compelling concept—you ensure maximum impact and can more successfully communicate key points.
Large audience, sizable venue. One-to-one, or one-to-few presentations delivered in a meeting or conference room play by different rules. We're not addressing those here.
8 steps to the TED Talk mountain top
TED Talks are so well done they can almost seem magical. But it isn't wizardry that makes them so compelling. In fact, there's a formula you can follow—8 steps that will allow your presentations to deliver similar impact:
Step 1: Know your audience
This is fundamental for maximizing the success of any communication. In order to relay your "big idea" in the most effective way, you need to understand what your audience knows and cares about. Then tailor your presentation appropriately.
If you're presenting to a new or relatively unknown audience, there are some quick ways to gather intel—such as researching and reading an applicable Reddit thread, or having a quick conversation with someone who's more familiar.
Step 2. Scout your venue
As a general rule, the background of your slides should match the room in which you're presenting. It's not uncommon for large venues to be darkened so the visual focus is on what's on stage. In some instances, however, stage environments can be illuminated or even a specific color or color theme. Matching slide backgrounds to the specifics of your venue can be very effective—allowing eyes to be drawn to the presentation's content, not the full outline of the slides themselves.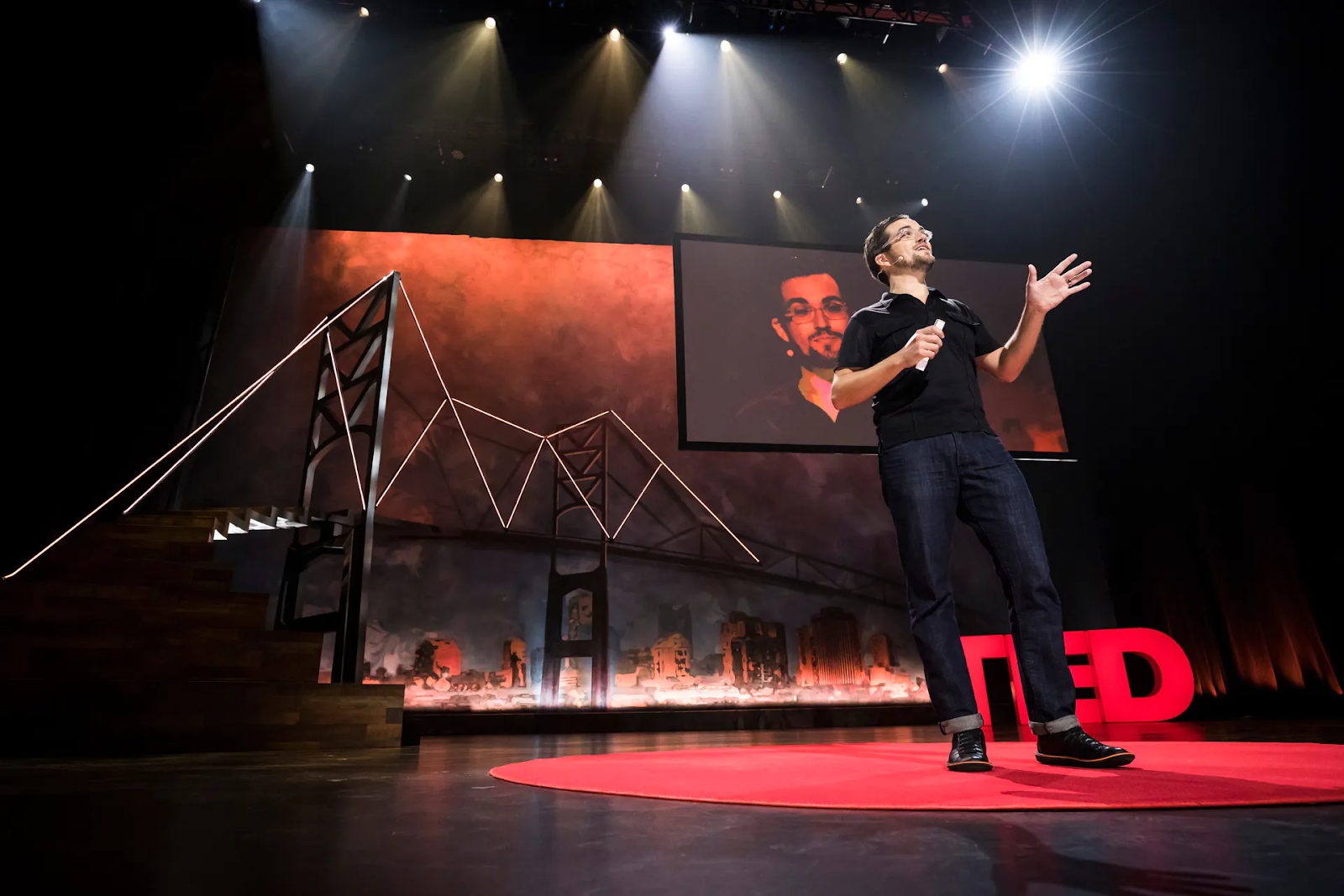 Keep audience viewing angles and distance in mind as well. You want them on the edge of their seats, but not because they're leaning forward and squinting to try and make out your tiny words.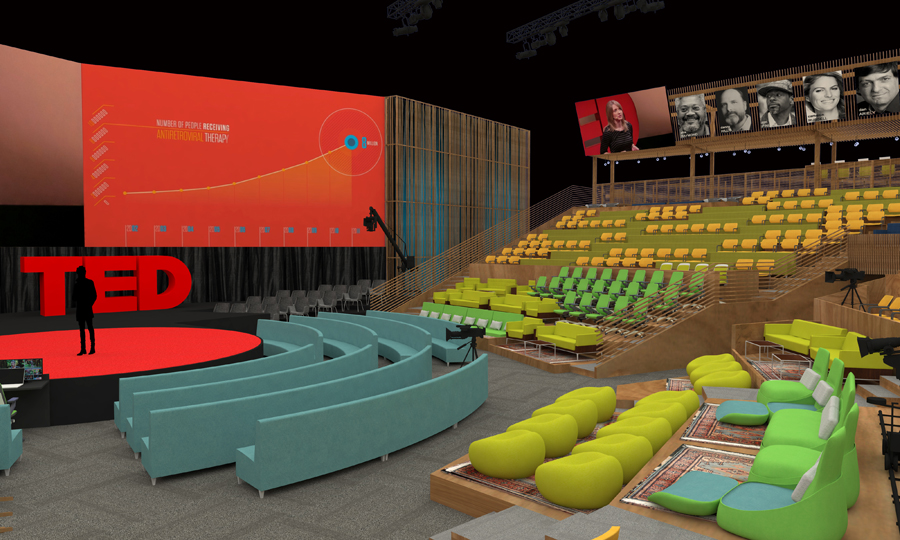 Step 3. Think about your presentation as a whole
Your presentation is a story. It should flow from start to finish, and you should understand the primary points you want to make along the way. Look for the "big opportunities" and use your slides to truly highlight them. Not every slide should "Wow!" Some should be supportive and lead up to your key points—just like scenes in a movie plot. If every slide (or every scene) is intense, nothing will stand out. Outlines, index cards or sticky notes can be helpful at the early stages when you're planning the arc of your story.
‍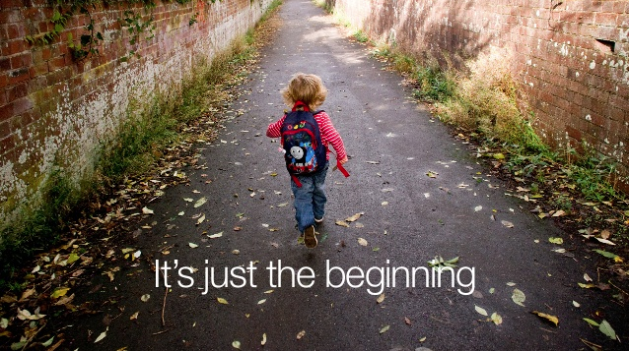 Step 4. One concept per slide (okay, maybe two)
To successfully make a point, you need your audience to be able to focus in and "get it." So instead of asking a single slide to carry the load of relaying multiple concepts, put the second (or third or fourth) on their own slides. It can even make sense to relay a single concept across multiple slides. This allows the speaker to spend more time on it without losing momentum.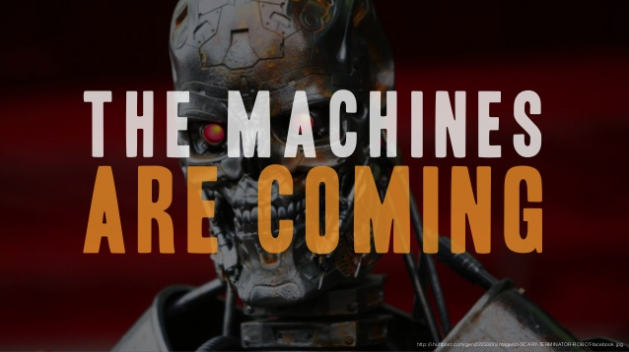 In some instances, you may be starting with a recycled slide your presenter happens to love—although you can see it's relaying too many things. In such a case, ask the presenter to literally present the slide to you, and listen for the one (or maybe two) key messaging concepts they're trying to relate. Build the new slide content to support those, and put everything else in the speaker notes.
Working with a client to distill a keynote's story down to a few big, clarified points can be difficult work. But if we're successful, the result is truly transformative.


David Mack Co-founder,
SketchDeck
Step 5. Minimalize
The slides are there to support your presenter—not to steal the show. The focus should be on speaker. Think single graphics and/or few words over phrase. Think phrase over sentence. Sentence over… (don't even THINK about multiple sentences). You don't want the audience to start reading, and stop listening.
The slide content is supporting the message, not relaying it. Everything on your slides should be meaningful. No placeholders, watermarks, headers or footers. If you haven't determined this already, using your standard company presentation template probably isn't a good idea. (Looking for an event or presentation specific presentation template? SketchDeck can help with that!)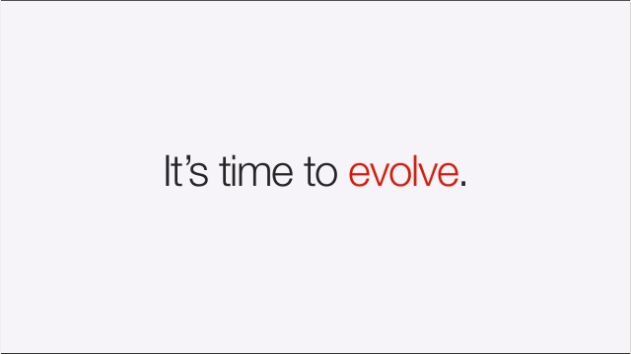 ‍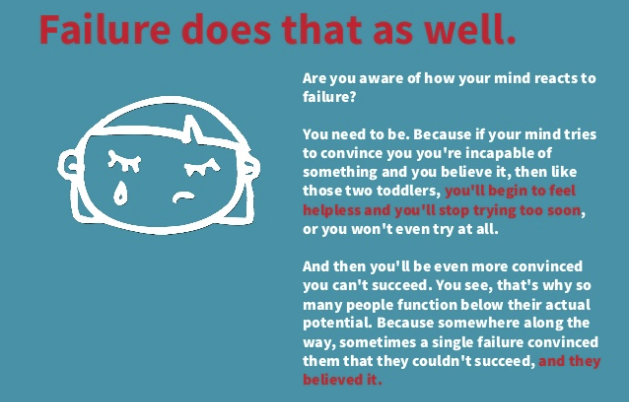 Step 6. Maintain top quality
This is a premium presentation, and it needs to look and feel that way. No grainy photos, watermarked stock images, family snapshots, placeholder text or clip art. Just. Don't. Do it. This is a day for Tiffany's, not Target.
Step 7. Consider motion
Videos and animation can add a different and engaging dimension to your presentation. If done well, they offer a level of cinematic drama that can enhance the magic of a live performance.  But keep the previous steps in mind if you go this route. Every visual element needs a reason to be there. Everything must help tell the story.
Step 8. Get a great presenter
The reality is a speaker can make or break a presentation. A bad presenter can ruin a perfect presentation. And as much as it pains us to write this, a great presenter doesn't really need slides (see Step 5 above). Therefore, if you're presenting, practice—ideally in front of someone who will be brutally honest. You should also consider hiring a coach.
SketchDeck recommends taking the presentation to a small, controlled audience a week or so before the event to see how it delivers. Not only is it a great practice opportunity, it allows time for last minute adjustments.
And most importantly, hear feedback and adapt accordingly. If you're not the presenter, ask whoever is to do the same. Great presenters are not born. It takes work, and the vast majority of that work is done before a speaker steps on stage.
It usually takes me more than three weeks
to prepare a good impromptu speech.


Mark Twain
The big day
The audience is rapt… pin drop silent. Elegant slides flip in perfect timing behind your delivery. You pause—at just the right point—confidently adjusting the cuffs of your black turtleneck.
"They're mine," you think. And you're right.
Nice work.
Fired up to blow away your next audience? So are we. SketchDeck would love to partner with you to help make your next presentation TED Talk-worthy.
Additional resources
https://www.ted.com/talks/nancy_duarte_the_secret_structure_of_great_talks
https://synapsiscreative.com/5-best-slide-decks-tedx/